This article is more than 1 year old
Europe to launch bold Sun swoop mission
And dark energy space 'scope will probe universe's growth
The European Space Agency hopes to blast into space a probe that will get closer to the Sun than any other craft has managed.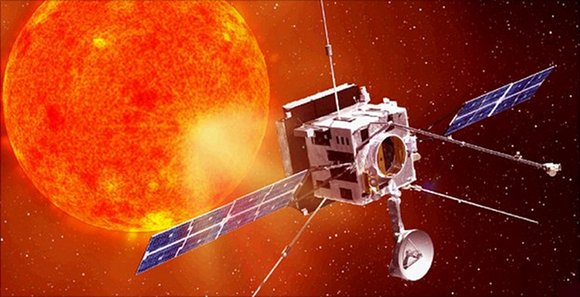 Artist's impression of Solar Orbiter. Photo by European Space Agency
The ESA said on Tuesday it aims to launch the Solar Orbiter from Cape Canaveral on a NASA-provided Atlas rocket in 2017 in the first of two space missions in its Cosmic Vision plan. The space boffins say the probe, which will pass within a mere 26 million miles of the star, will help them "make major breakthroughs in our understanding of how the Sun influences its environment".
The agency is particularly interested in gathering more information about solar winds and solar flares. Its canned statement reads:
Solar Orbiter will be close enough to the Sun to sample this solar wind shortly after it has been ejected from the solar surface, while at the same time observing in great detail the process accelerating the wind on the Sun's surface.
The second mission, selected by ESA's Science Programme Committee, is the space telescope Euclid, which is designed to study the effects of "dark energy". Dark energy, the mysterious hypothetical force propelling the universe's expansion, has already been in the news this week, with its discoverers winning this year's Nobel Prize for Physics.
The agency hopes that using Euclid to map out the universe "with unprecedented accuracy" will reveal the history of its expansion and growth, and thereby help astronomers to "understand the exact nature of dark energy".
The Euclid is set to launch on a Soyuz rocket in 2019 from Europe's spaceport at Kourou in French Guiana.
"With the selection of Solar Orbiter and Euclid, the Science Programme has once more shown its relevance to pure science and to the concerns of citizens: Euclid will shed light on the nature of one of the most fundamental forces of the universe, while Solar Orbiter will help scientists to understand processes, such as coronal mass ejections, that affect Earth's citizens by disrupting, for example, radio communication and power transmission," Alvaro Giménez, ESA's director of science and robotic exploration, said in the statement. ®