This article is more than 1 year old
The life and times of Steven Paul Jobs, Part One
From grade-school hellion to iMac redemption
Jobs' NeXT step
In an interview with Newsweek in late September 1985, Jobs mused about his post-Apple plans: "I personally, man, I want to build things. I'm 30. I'm not ready to be an industry pundit."
Jobs' desire to "build things" led to him gathering the five senior Apple engineers he had been courting and hiring them as the core of his next computing effort, which eventually became known as NeXT.
Apple management, to put it mildly, wasn't pleased, and started legal action against Jobs for a "nefarious scheme" in which, they alleged, he was not only poaching senior staff, but also planning to use proprietary Apple technology and confidential information.
That lawsuit was eventually dropped, but not before Jobs fired back in the press, saying in the same Newsweek interview: "There is nothing ... that says Apple can't compete with us if they think what we're doing is such a great idea. It is hard to think that a $2 billion company with 4,300-plus people couldn't compete with six people in blue jeans."
Jobs soon had a great stroke of luck: billionaire entrepreneur and eventual presidential candidate H. Ross "giant sucking sound" Perot became NeXT's principal investor, as well as – as BusinessWeek put it in an October 1988 cover story – its "head cheerleader".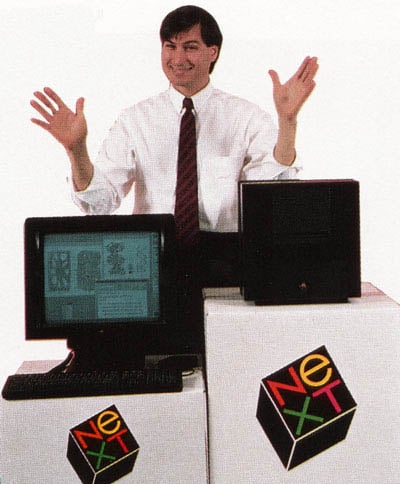 Salesman Steve and the original NeXT Computer – Jobs' first "Cube"
The workstation line that NeXT created was aimed at scientific and academic users who needed brawny computing power on their desks. It was inarguably elegant, but sold poorly. However, one of those workstations' supported operating systems, Next System (which morphed into NeXTStep), was eventually key to Jobs returning to Apple in late 1996.
A quick side note: there were at least five different ways of writing NeXTStep, with four being official usages that depended upon exactly what parts or version of it you were referring to: NeXTStep, NeXTStep, NeXTSTEP, and NEXTSTEP – the fifth, which NeXT acknowledged but didn't use, was NextStep. For the sake of sanity, we're going to consistently use NeXTStep. The same goes for the related API definition, OpenStep/OPENSTEP, aka NEXTSTEP 4.0.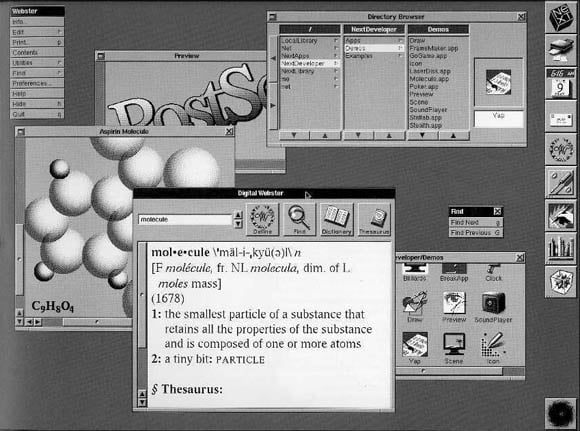 NeXT System, the OS that eventually morphed into Mac OS X (click to enlarge)
The original NeXT Computer seemed to be Jobs' attempt to one-up Apple's Macintosh. It was powered by a Motorola 68030 processor, 68882 FPU, and DSP56001 digital signal processor, all running at 25MHz. When the NeXT Computer debuted in prototype form on October 12, 1988, the top-end Mac of the time – the IIfx – had a 16MHz 68030 and 68882, and no DSP.
Other better-than-Mac features of the NeXT Computer included Display PostScript and built-in Ethernet. The full NeXT system included a 17-inch monochrome 1120x832 pixel display – Apple's 1152x870 two-page monochrome display wasn't released until March of 1989. NeXT also offered a 400 DPI laser printer that, since the computer itself included Display PostScript, cost just $2,000 – a steal compared with Apple's 300 DPI LaserWriter IINTX, which had a built-in PostScript interpreter that helped boost its list price to $6,999.
Jobs also added a typical 'I know what's best' touch: rather than a hard drive and/or floppy drive, the NeXT Computer included a 256MB magneto-optical drive – a relatively unusual item in those days – which the original NeXT brochure described as being "bound to become the standard technology of the '90s".
There was, however, a bay inside the NeXT Computer for a hard drive, should you choose to install one. As the brochure pointed out: "Its possible configure [sic] your NeXT system to allow access to truly enormous amounts of storage - approaching one gigabyte and more."
The NeXT Computer was a cubical black box, which led to it often being called the NeXT Cube. That name was then officially applied to the company's next product, 1990s 40MHz 68040–equipped NeXTcube, which appeared along with the color-capable NeXTdimension. The final NeXT line, the NeXTstation, flattened the cube into a more-standard "pizza box" shape and added a floppy drive.
But none of NeXT's nifty hardware offerings sold well – although some boxes are still in use. No official total sales number is available, but it's generally accepted to be in the range of 50,000 – from the debut of the original NeXT Computer in 1988 to the demise of the black beauties in 1993.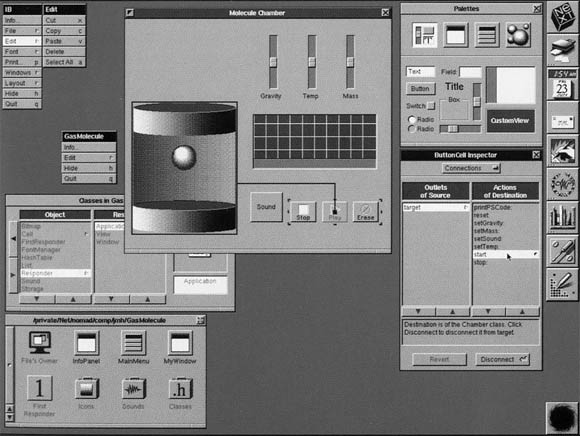 NeXT's Interface Builder, which eventually found its way into Mac OS X's Xcode (click to enlarge)
There's one possibly apocryphal anecdote about Jobs' difficulty – and naiveté – in selling NeXT boxes that bears retelling. According to Alan Deutschman's The Second Coming of Steve Jobs, Jobs presented both black and white and color versions of his workstation to a group of Disney execs, hoping to convince them to put in a large order.
In his audience was Jeffrey Katzenberg, head of Disney's feature film division. After Jobs said that the color NeXT box would put image-making power in the hands of ordinary people, Katzenberg interrupted him. The bare-knuckles exec complimented the black-and-white unit, but he had a different opinion of the color version
"'This is art,' Jeffrey said," according to Deutschman. "'I own animation, and nobody's going to get it.' His voice was fierce and intimidating and commanding. 'It's as if someone comes to date my daughter. I have a shotgun. If someone tries to take this away, I'll blow his balls off.'"
Jobs' reality distortion field was breached.
Although the NeXT hardware had its fans, sales were skimpy. However, NeXT's Unix-based operating system and its set of libraries, services, and APIs eventually known as OpenStep, attracted many programmers as devoted fans.
Tim Berners-Lee, for example, wrote the first browser, WorldWideWeb, on a NeXT. "This had the advantage that there were some great tools available," he wrote. "[I]t was a great computing environment in general. In fact, I could do in a couple of months what would take more like a year on other platforms, because on the NeXT, a lot of it was done for me already."
The NeXT System's application-development prowess would eventually change Steve Jobs' life – but not before NeXT's hardware business imploded.