Members of the Westboro Baptist Church (WBC) have announced their intention to protest at the funeral of Steve Jobs, in a Twitter message sent via an iPhone.
The group, best known for their rainbow "God hates fags" signs and web page, are claiming the action is in response to Jobs not using his wealth to promote their interpretation of the Bible and for Apple being consistently voted one of the most gay-friendly employers. The group's grievances and its original protest plans were posted from iPhones, something the Twittersphere has been quick to point out.
"We're not against technology; we're against using it to promote what God hates," said Megan Phelps-Roper, granddaughter of the church's founder Fred Phelps, before tweeting a picture of the group using their iPhones at a protest.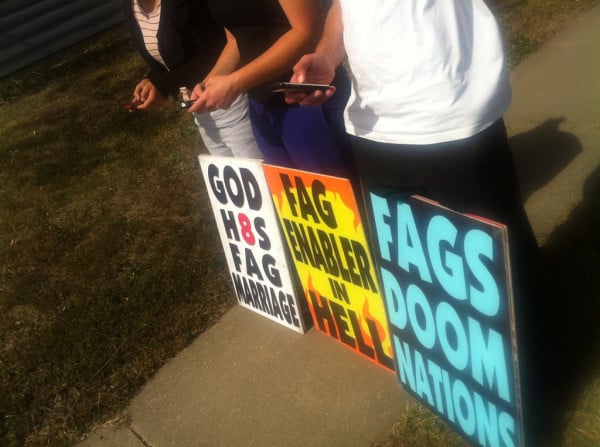 The WBC has built a name for itself by protesting at the funerals of soldiers and those in the public eye, and is seen by many as the unacceptable face of free speech. A Supreme Court ruling this year cleared the group's protests under free-speech rules, so there is unlikely to be anything the family of Jobs can do to stop the protests.
The group was started by Fred Phelps, a former civil rights activist and lawyer, and consists largely of members of his extended family, with the whole group numbering fewer than 100 members. They claim to have hundreds of protests a year, pushing their belief that America is being punished for allowing the practice of homosexuality – something they believe should be a capital crime.
However, the group isn't just obsessed with homosexuality. It also maintains GodHatesIslam.com, GodHatesTheMedia.com, PriestsRapeBoys.com, and the all-encompassing GodHatesTheWorld.com web sites. Both Anonymous and The Jester have staged attacks against the group's web sites, leading to some downtime, but the WBC is understood to be reasonably technically savvy and usually have mirror sites up quickly.
There have also been numerous attempts to physically silence the group, ranging from the passage of the Respect for America's Fallen Heroes Act in 2006, designed to keep them from approaching funerals too closely, while Michael Moore organized the Sodomobile – a bright pink camper van filled with gays and lesbians – to run counter protests.
The group came to San Francisco last year to protest against Twitter, whose services they use daily, and had planned an extensive list of other demonstrations. However, such was the turnout of counter protestors that the group called off many of their proposed action and went home to Topeka, Kansas. ®