This article is more than 1 year old
Apple cofounder Steve Jobs is dead at 56
Creative genius revolutionized computers, music, phones
Steve Jobs, Apple's cofounder and former CEO, has died. He was 56 years old.
His death was reported late Wednesday in a brief statement on Apple's website. Apple's homepage featured a black-and-white photo of Jobs with a closely trimmed beard bearing his name and the years 1955-2011.
"Apple has lost a visionary and creative genius, and the world has lost an amazing human being," a statement by Apple said. "Those of us who have been fortunate enough to know and work with Steve have lost a dear friend and an inspiring mentor. Steve leaves behind a company that only he could have built, and his spirit will forever be the foundation of Apple."
Arguably the most influential and charismatic leader in the history of an industry stocked with high-profile personalities, Jobs created then later transformed Apple into a consumer electronics giant that redefined product elegance and ease of use.
Having both publicly and privately battled serious health problem for years, Jobs' death was not unexpected.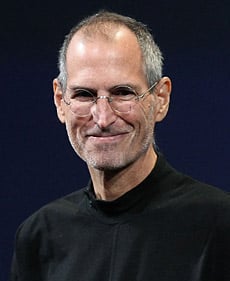 In August 2004 he revealed that he had a rare but survivable islet cell neuroendocrine tumor removed from his pancreas. At that time he told Apple employees that he would return in September. He did.
In January 2009, Jobs released an open letter in which he said that his severe weight loss – which had been "a mystery to me and my doctors" – had been discovered to be a "hormone imbalance".
Just over a week later, however, Jobs began a second medical leave of absence. In an email message addressed to "Team", he wrote: "I have learned that my health-related issues are more complex than I originally thought."
In June of that year, a spokesman for a Tennessee organ-transplant center confirmed that Jobs had received a liver transplant in April. Jobs returned to Apple on a part-time basis at the end of June, and in September he appeared at an iPod-introduction event, where he told the crowd: "I'm vertical, I'm back at Apple, and loving every minute of it."
During the later half of 2010, however, it became clear that Jobs' health was deteriorating. In January 2011, he began what was to be his third and final medical leave.
Jobs never returned to day-to-day duties at Apple – although he appeared to relish his appearances at the iPad 2 and iCloud roll-outs, over which he presided in his familiar black-turtleneck-and-jeans public personna.
During this third leave of absence, as with the first two, Apple's COO Tim Cook took the reins as acting CEO. Apple's board of directors, at Jobs' urging, named Cook CEO when Jobs resigned in August.
In his letter of resignation, Jobs wrote: "I have made some of the best friends of my life at Apple, and I thank you all for the many years of being able to work alongside you."
Jobs was nothing if not a polarizing figure, but any honest member of the consumer-technology industry must thank him for the many years of being able to work alongside the mercurial visionary.
Adopted son of Paul and Clara Jobs, Steven Paul Jobs was born to Joanne Schieble and Abdulfattah Jandali. He leaves his wife of 20 years, Laurene Powell Jobs, and children Lisa, Reed, Erin, and Eve. ®