Thai prime minister Twitter hack suspect charged
Cops ferry student to a press conference with gov minister
Thai police have arrested a man suspected of hijacking the Twitter account of the Asian country's newly elected prime minister, Yingluck Shinawatra.
Aekawit Thongdeeworakul, 22, an architecture student, allegedly broke into Shinawatra's account to post tweets accusing her of cronyism and failures in office. The hapless prime minister has only been in office for two months.
The prime minister's account – @PouYingluck – was reportedly hacked via a mobile phone. Bullish ministerial pronouncements that police were confident of quickly apprehending a suspect came just hours after the 2 October attack. This suggests that any attempt to disguise the origin of the attack was ineffective at best. The hacked @PouYingluck account was suspended in the aftermath of the outrage.
The final post read: "If she can't even protect her own Twitter account, how can she protect the country?"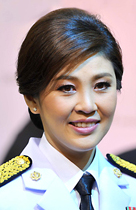 Twitter sister: New Thai
Prime Minister Yingluck Shinawatra
Police arrested Thongdeeworakul just days after the attack. The student was subsequently charged with computer hacking offences punishable by up to two years' imprisonment. To add to his indignity, Thongdeeworakul – who has been charged but not yet found guilty – was wheeled out like a prisoner for a news conference. He was seated next to Information and Communication Technology Minister Anudith Nakornthap at the news conference, presumably quickly called together after his arrest.
The student remained silent while the minister said: "He told me his act was innocent as he didn't realise it would be a big deal," the BBC reports. ®
Bootnote
Yingluck Shinawatra, leading of the Pheu Thai party, is the sister of controversial former Thai prime minister Thaksin Shinawatra, who was ousted from office in a military coup five years ago. Thaksin Shinawatra, who made his fortune in the mobile telecomms business, bought Manchester City Football club a year later, turning a huge profit when he sold the club to its present owners, the Abu Dhabi United Group.