Ellison's cloud conversion is good for business
Skeptic turned evangelist to win CIOs
Open...and Shut For those agnostics who continue to doubt the reality of cloud adoption, there are two clear signs: the adoption of Amazon's public cloud and Larry Ellison's public cloud creation. The first is a sign of the appetite for cloud while the latter is a suggestion that even the cloud laggards have eventually found their way to their seats. Now if someone would just tell the CIOs...
CIOs, after all, have been telling analysts that they're not quite ready to embrace the cloud. Symantec surveyed 5,300 organisations and found (warning: 18-page/2.1MB PDF) that "while interest in cloud is high, few organisations have crossed the finish line, despite tremendous interest (and media coverage)."
Why? Because these executives worry that their staff aren't qualified, and that security and uptime are suspect. Similar findings emerged from surveys done by SWC Technology Partners, Colt Technology Services and Vanson Bourne, among others.
And yet somehow business consulting firm Bain & Company found that this apparently tepid cloud adoption would quadruple by 2020, dramatically outpacing spending on legacy hardware and software (the firm approximates it will grow six times as quickly). What gives?
The discrepancy largely derives from asking the right questions of the wrong people.
Just as happened in open source, the CIO is generally the last to know what's actually going on within their IT organisation, as Billy Marshall has pointed out. Down in the bowels of enterprise IT, developers – the new kingmakers, to quote Redmonk analyst James Governor – are actively embracing the cloud, moving more and more workloads to both private and public clouds.
This is clearly evident from Amazon's reported S3 usage, now at 566 billion objects: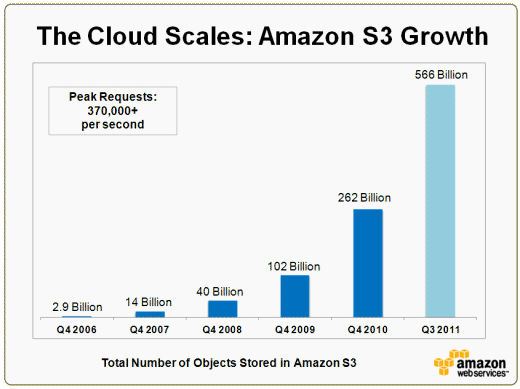 As GigaOm highlights, the pace of S3 volume is accelerating fast. Developers have added 304 billion objects to S3 in the past nine months, with the rate of transactions increasing by 28 per cent. There's no way to explain away that growth except by acknowledging that cloud adoption is real and getting faster all the time.
Even Oracle's chief executive Larry Ellison agrees. The man who once pilloried cloud computing as nothing more than "water vapour" and simply a new name for "everything we already do" now is singing a new tune.
At his company's OpenWorld conference this week, Ellison introduced the Oracle Public Cloud and, true to form, took the time to deride the Salesforce cloud as a "false cloud." Apparently, a false cloud is one that isn't built with open standards and which embraces lock-in.
But this is no time to carp on such little details as truth and accuracy. For CIOs not convinced by the Amazon numbers, and too ignorant of what's going on with their engineering staff, Ellison has made it clear that the cloud is now mainstream. After all, he now has one to sell to them. ®
Matt Asay is senior vice president of business development at Strobe, a startup that offers an open source framework for building mobile apps. He was formerly chief operating officer of Ubuntu commercial operation Canonical. With more than a decade spent in open source, Asay served as Alfresco's general manager for the Americas and vice president of business development, and he helped put Novell on its open source track. Asay is an emeritus board member of the Open Source Initiative (OSI). His column, Open...and Shut, appears twice a week on The Register.