Photo HP staff downed tools at the SIMO Network 2011 conference in Spain this week to protest against job cuts.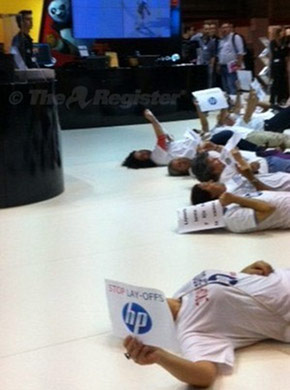 If you're HP and you know it, wash your hands...
An El Reg contact kindly took a photo as disgruntled workers took to the HP stand on 5 October only to lie down clasping placards urging their employer to "Stop Lay-Offs".
The US tech titan – which employs more than 324,000 staff worldwide – revealed in June 2010 that it would axe 9,000 bodies over the next three years following "productivity gains and automation" in the services business.
The webOS hardware team are also facing some redundancies, with 525 expected to receive their pink slips, after HP canned further fondleslab or smartphone development on the platform.
HP refused to comment. ®