Panasonic HM-TA20 underwater camcorder
Taking a dip
---
Review Pocket camcorders might have lost their appeal since the spread of HD-ready smartphones but the amphibious nature of the Panasonic HM-TA20 is still likely to grab the attention of holidaymakers. The HM-TA20 is an underwater pocket camcorder capable of shooting 1080p videos and 8Mp still images up to depth of 3m and also doubles up as a digital voice recorder, with a number of ad hoc options.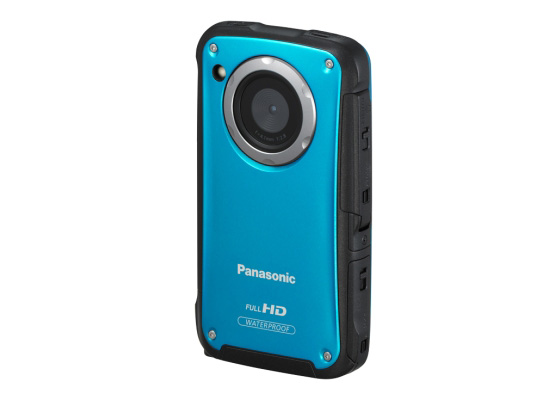 Sub-aqua snapper
The HM-TA20 has a rugged and fun appearance with a bright orange or blue-coated body that felt just a tiny little bit too wide for my hands and slightly awkward to hold. The large 3in touch-sensitive screen whilst being generous in size, leaves very limited space to grip on. You need to hold the camcorder in an upright position while shooting, so it's not the most comfortable camera to handle, especially underwater.
On a positive note the camcorder is very tough and well built, with every compartment protected by thick watertight rubber seals, along with a security system of double switches to prevent exposure of internal areas even during the most extreme sport or careless use.
The HM-TA20 has virtually no physical controls other than a large recording button at the front with everything else handled through touchscreen menus. The camera uses a resistive panel which is not very responsive.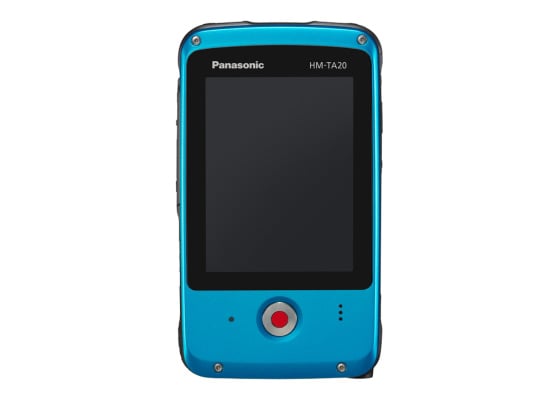 Settings tweaks are performed using touchscreen menus
The user interface relies on three large virtual buttons, Play, Mode and Menu that unfortunately leave little space for the actual live view of the footage. The menu is very straightforward but lacks direct control of functions such as exposure or mic volume. Touch control issues aside, the LCD screen is bright even underwater and fairly sharp too.
Apart from being waterproof, shockproof and dustproof, the HM-TA20 does not exactly shine in terms of specs. The 1/4.1in CMOS sensor has a 5.33Mp resolution, which is further reduced if the 4x digital zoom is used. Presumably, Panasonic indulges in some image interpolation trickery to get this sensor to deliver 8Mp (3264 x 2448) stills. Video capture is at 30fps in Full HD, 720p, VGA or iFrame resolutions. The latter is 960 x 540 and is optimised for use with Apple's iMovie '11. For low light shooting, there's a rather weak LED light on the side of the lens which helps, but not much.