Old Napster guy's fan letter to Spotify upstart
'Grasshopper. You are almost as cool as I once was'
The original Napster was the greatest digital music service we've ever seen – and, into the bargain, was the first global social network. Choosing to close it, rather than financially exploit it, is something many people in the music business have regretted ever since. They had a new world of consumers in the palm of their hand, but chose to crush it.
Now Forbes has published an email to Spotify CEO Daniel Ek from one of the key figures in Napster, Sean Parker (the character played by Justin Timberlake in The Social Network). In his enthusiastic email, Parker manages to capture exactly what it is that people want from a music service. Have a read; it makes the combined efforts of the tech and music industries over the past decade look rather shabby.
Writing in 2009, Parker lauds Spotify as being the nearest thing to Napster he's seen. How so? It's lightning fast, gives people instantaneous access to a large library of music and, most of all, it's a native binary.
"What's clear is the labels never quite understood the way people really consume/share/experience digital music. And they couldn't admit to themselves that this consumer behaviour wasn't changing any time soon," Parker writes.
"I've waited nearly a decade for a product that could match the standard set by Napster on three counts:
convenience,
speed/responsiveness, and
sampling/discovery of music
"You guys nailed the core experience: it's at least as good as Napster for search and listening, and everything else can be built from there," he explains.
Although it's not a download service, Parker continues, this matters less because of faster networks, and it has playlists, which Napster never really had. Parker spends a lot of time apologising for the original Napster UI – "an atrocious ugly beast", he says, perhaps overstating it.
He notes how Spotify went against the fashion of building web-based applications, and created a native client - Spotify uses Qt, and runs natively on Windows, Mac and Linux. The user experience would have been much poorer if Spotify had chosen the web UI route, Parker writes.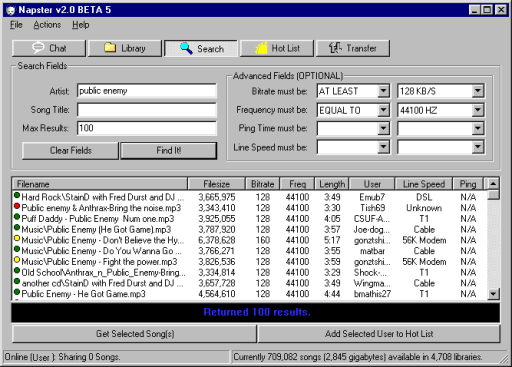 Napster, from 2000
Interestingly, Parker says the amount of "grey" material on people's PCs was a factor in the original Napster's success. But it also offered a voyeuristic rifling through other people's linen drawers, something Spotify punters have objected to recently. Many Napster users simply pointed to one folder on their hard drive, in which could be found all manner of embarrassments – including porn.
Another thing missing from Spotify – but added by its partnership with Facebook – is real-time chat.
Parker also lists some of the features planned for version 2.0 of Napster – which never saw the light of day.