Job creation better than expected in the US
Pink slips for IT workers, though
---
Some good news out of the US economy. Job creation was better than expected in September, according to a report released today from the Bureau of Labor Statistics. Better still, more jobs were apparently created in July and August than expected.
The job count is done by the BLS using surveys of businesses, but the unemployment rate is calculated by surveys of American households. And in the surveys done for September, the unemployment rate remained stuck at 9.1 per cent. This is about twice the unemployment rate that used to be considered the structural unemployment rate in the US economy, but there is a nasty suspicion that cash-hoarding and hiring-shy businesses in the country are building a higher and politically uncomfortable unemployment floor underneath the US economy.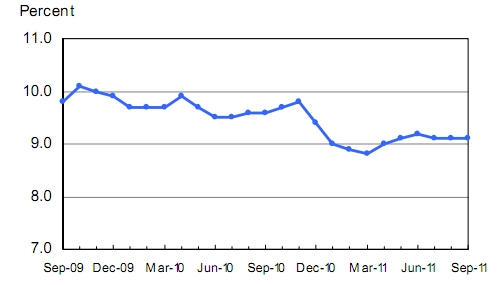 Monthly unemployment rate in the US. Source: Bureau of Labor Statistics
The number of officially unemployed people in the country remains essentially unchanged at 14 million, and the official definition means people who are looking for work and haven't found it. That rate does not include people who have stopped looking, which is arguably as large. (Politicians deliberately don't talk about this much.)
While the job creation is not anywhere near the 200,000 net new jobs or so necessary to match population growth in the US, more jobs – and a level about twice as high as Wall Street and Washington had been bracing for – is welcome news. The BLS said this morning that non-farm payrolls rose by 103,000 people in September, thanks in part from 45,000 striking workers at telecom giant Verizon returning to work after being on strike in August. Private companies added 137,000 workers, and state, local, and Federal governments slashed 34,000 people. Local governments have cut 535,000 people since September 2008.
Originally, the BLS said that 85,000 net new jobs were created by employers in July, but it now reckons that US employers added 127,000 jobs, and better still, in August the BLS calculated that there were no new jobs (thanks in part to the Verizon strikers and layoffs among governments), but the BLS now says that even with those factors, the US economy added 57,000 jobs in August. So the summer was bad, and the economy is not yet good based on jobs, but it is not as bad as it was thought.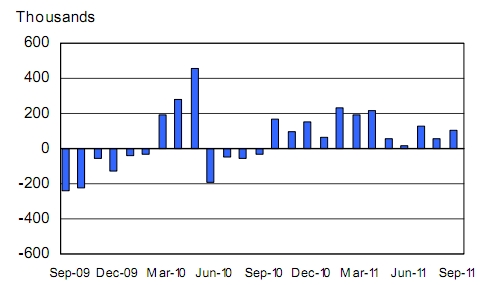 Monthly net job creation in the US. Source: Bureau of Labor Statistics
Manufacturers cut 13,000 workers in September and retailers cut 9,000 people, but the latter are ramping up for the holiday season and should be adding jobs in the coming months.
Healthcare providers added 48,000 employees last month, and construction companies picked up with 26,000 net new workers getting paychecks. Companies engaged in professional services added 48,000 in September and have added a staggering 897,000 net new employees since September 2009. Computer systems design and technical services have been the heroes here, but didn't do well in September.
The BLS doesn't track jobs by title, so we can't see how the IT sector is doing in terms of jobs creation and destruction. But we can get an indirect measure by picking through the BLS data.
Within the manufacturing sector, computer and electronics products makers actually cut 3,400 jobs in September; they collectively employed 1.13 million people. Within this group, computer and peripheral equipment makers employed 172,900, down 500 last month, and communication equipment makers had 116,400 employees, down 600. Semiconductor and electronic components makers had 388,900 people on the payrolls, down 1,200 as a group.
In the information sector, which includes media, publishing, telecom, and hosting, telecom workers bounced back to 842,000 thanks to Verizon coming off strike. Data processing and hosting providers held at 238,300 workers.
Within the professional and business services industry, computer systems design firms actually cut 3,700 workers, to 1.52 million people, and management and technical consulting firms cut 800 jobs, to just over 1 million people. ®
Similar topics
Narrower topics