Photo update The first UK-built bamboo bike has been shown off at the Cycle Show in Birmingham.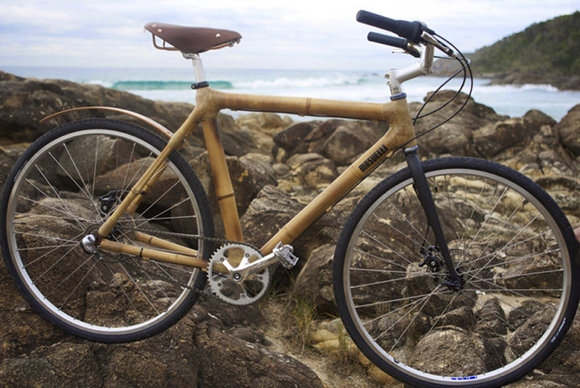 One of the bamboo bikes from the range. Image courtesy RAW Bamboo Bikes
The large grass velocipede is the brainchild of designers from Oxford Brookes University, who say that the bamboo has the strength of steel but the responsiveness of carbon fibre.
"Bamboo has a genuine performance benefit where it has this ability to dampen frequencies quite nicely," co-designer James Broughton told the BBC. "In terms of ride quality, we thought that it might have nice characteristics."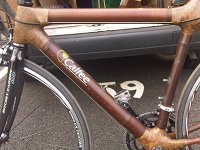 The frame of the bike is jointed with flax fibre.
The frame of the bikes is made out of bamboo tubes and jointed with flax fibre, "which has strength and flexibility to complement the stiffness and durability of bamboo", according to Brookes University.
It took 18 months of development before the bike passed all the "rigorous safety tests" Brookes put it through.
Both Broughton and his co-designer Shpend Gerguri also recently tested the panda-fodder bikes by completing the eight-day TransAlps race on them.
The bikes are now being produced for sale by Yorkshire-based RAW Bikes, with the frame at £1,000 and the first mountain bike starting from £1,750.
According to RAW's website, bamboo "is extremely absorbent of vibrations and bumps in the road and trail", which is what makes the material a good choice for bicycle frames.
Of course, the new bikes will also attract interest because of the ecological benefits. Bamboo is a fast-growing grass that needs less land and water to grow than a lot of other plants.
It can also "absorb up to five times more CO2 and release up to 35 per cent more oxygen than an equivalent stand of trees", Brookes University said, adding that it can be harvested after five years and re-grows easily. ®