Surveyors for Ordnance Survey maps have taken to Twitter to help the public understand what they are doing, with a Twittermap of the UK plotting their thoughts and observations as they roam the country, looking at roads and measuring things. The OS Mastermap receives 5,000 changes every day, as houses are taken down, roads are built or streets are renamed.
The Twittermap pulls in location-anchored tweets from 14 surveyors letting you see what they're doing every day as they go about tweaking the maps. It is the first time the OS has asked them to tweet about their experiences.
Apparently they've got into it: "Yes. They're very keen," Paul Beauchamp of the Ordinance Survey team said, choosing diplomatic words.
"There were a few individuals who needed to be convinced. But they've been tweeting for a while now and it's useful for them to help people understand better the role they play."
Beauchamp explained that people don't always understand the nature of the mapping profession and that surveyors can get a lot of flack from the public. "I was told recently about a surveyor and his boss who had to ask a landlord for permission to measure on his land. There was no reply so they tried to go round the back of the house and met the landlord approaching with a shotgun. It's not a job for the faint of heart."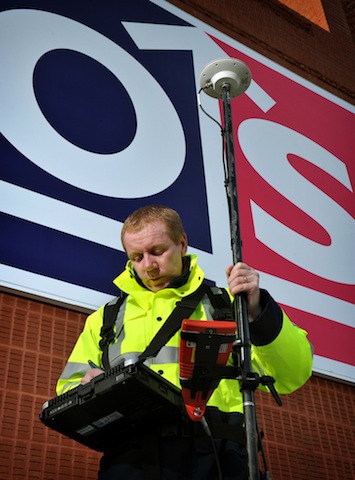 Not for the faint of heart
The OS Mastermap is used by government services for everything from directing ambulances to planning bus routes and fraud detection. The GPS tools are accurate to within a couple of centimetres and the OS surveyors also record information down to the house numbers.
Zoom in on your area to find surveyors near you. Sadly, the map only seems to display one tweet from each surveyor, so there's no accumulation of tweets, just the most recent thing they have been up to.
"Working in a range of roles, from surveyors mapping the outer reaches of Scotland and inner city London, to a member of Ordnance Survey's Flying Unit, each will be tweeting as they go about their work and providing an insight into modern map making," said Beauchamp. ®
Sponsored: Ransomware has gone nuclear