Part Two Before Steve Jobs introduced the iMac on May 6, 1998, his life – as we detailed earlier – had been a roller-coaster of ups and downs. After the iMac shipped on August 15 of that same year, however, he and the company he led traded that carnival ride for a rocket.
The iMac was an immediate success. "We have had a phenomenal response to this product," Jobs told Cnet two weeks after its launch. "We've not been able to keep up with demand; we're shipping tens of thousands [of iMacs] a week."
During the fourth calendar quarter of 1998, Apple shipped 519,000 iMacs, helping to more than triple the company's profits from the same quarter in the previous year. A total of around 800,000 iMacs had been sold since its debut.
Investors were happy – well, happier, at least – customers were happy, and, critically, developers were happy. Although hard figures are hard to come by, a significant number of developers were returning to the Mac platform as a result of the iMac's success.
Still, there were doubters. "Apple's at a peak right now," one financial analyst told the San Francisco Chronicle. "They are likely to see a plateauing of iMac shipments going forward and that is going to make the stock a lot less interesting."
On the day of that analyst's cautionary statement, Apple's stock – adjusted for subsequent splits – was at $10.35. Exactly one year later, it stood at $25.11, an increase of just about 150 per cent.
During that year, Jobs & Co. updated the iMac's specs, made it available in colors it labeled "Blueberry, Grape, Strawberry, Tangerine, Lime, and Graphite", and kept selling them. In July, the company also introduced the iMac's notebook sibling, the oddly toilet-seat-looking iBook (originally available in "Blueberry and Tangerine"), and updated the pro-level Power Macintosh G3 with the iMac's translucent-plastic design language.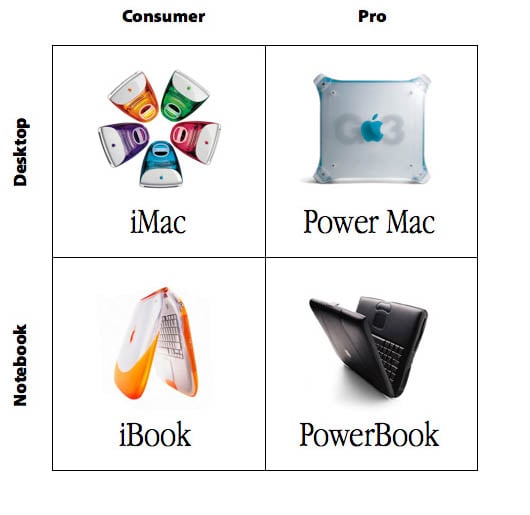 Steve Jobs' four-quadrant product grid, nicely filled in after July 1999 (source: all about Steve Jobs.com
In those days, Apple made most of its major announcements at IDG's biannual Macworld Expo shows – and the January 2000 Expo, held as usual in San Francisco, was no exception. For one, Jobs demoed Mac OS X.
Mac OS X was a direct result of the NeXT acquisition, with its Darwin kernel being built from the NeXTSTEP architecture, which itself was Unix at its core. As a result, Mac OS X promised to be far more stable than the original, rickety Mac operating system, which at the time of Jobs' Macworld 2000 presentation, was at OS 9 that had been released on October 23 of the previous year.
The appearance of Mac OS X – which Jobs was careful to instruct the faithful was pronounced "ten" not "x" – was also an outgrowth of the iMac design language, being replete with transparency, glowing colors, and a generous use of white.
The theme for the Mac OS X interface was called Aqua, which Jobs referred to as being so luscious that "you just want to lick it". (A non-Aqua version of Mac OS X called Mac OS X Server 1.0 had been released the previous March with a Mac OS 8 look-and-feel.)
During his Expo keynote, Jobs announced that "Mac OS X will be on sale as a software product starting this summer, and we will be preloading it on all machines a year from now":
Jobs, Apple, and Avie Tevanian – the NeXT veteran running the Mac OS X effort – didn't make that deadline. Nothing came out in summer, but on September 13 a public beta was released, and Apple charged users $29.95 for the privilege of being beta testers. Trivia tidbit: the beta was codenamed Kodiak, the only non-feline name for any version since.
Mac OS X 10.0, aka "Cheetah", finally shipped on March 24, 2001 – and a buggy mess it was. Mac users had to suffer through it and 10.1, "Puma", until the first truly mature version was released on August 23, 2002, and which used its codename, "Jaguar", in its public branding, as have all versions of Mac OS X since.
But let's return to that January 2000 keynote stage for a moment. At the end of his presentation, Jobs recapitulated his "one more thing" meme, which he had debuted at Macworld Expo 1998, and which he used to tack on an important announcement or product introduction at the end of his keynotes.
"I got back to Apple, along with several other people, two and a half years ago," he said after the keynote's faux ending and one-more-thinging. "What we found was a great company that needed a little bit of help."
Then, after praising the "incredibly talented people" with whom he had worked with at Apple and its partners, and after asking the audience to give them all a hand, he continued: "I think after two and a half years we've been able to prove to our shareholders at Pixar and our shareholders at Apple that maybe we can pull this dual-CEO thing off."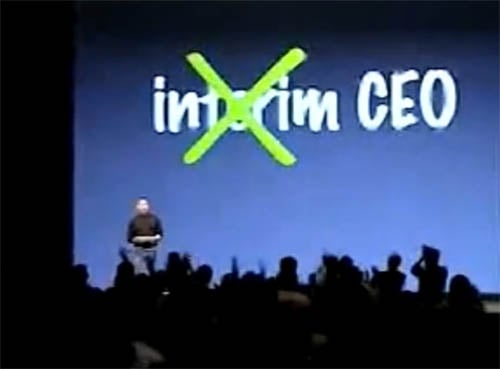 Apple's interim CEO becomes its iCEO
An "X" then appeared over the word "interim" on the presentation slide behind him, the "i" joined the "CEO", and Jobs became Apple's iCEO. The crowd leapt to its feet, yelling and chanting "Steve! Steve! Steve!" and gave him a half-minute ovation.
"You guys are making me funny now," he finally said, appearing to be somewhat taken aback. "I get to come to work every day and work with the most talented people on the planet at Apple and at Pixar, and it's the best job in the world."
Having been in that audience at that moment, this old cynic can report that it truly appeared that he meant it.
Similar topics