Android App of the Week First published in 1998 Roger's Profanisaurus is a compendium of words and phrases inspired by the lexicon and philosophy of Viz comic's foul-mouthed northern TV reporter Roger Mellie.
Thirteen years later and "the man from the telly" can now spice up your descriptive and euphemistic powers through this handy app. Never before has it been so easy to find an alternate term to describe an ugly bird, taking a dump, throwing-up or passing wind.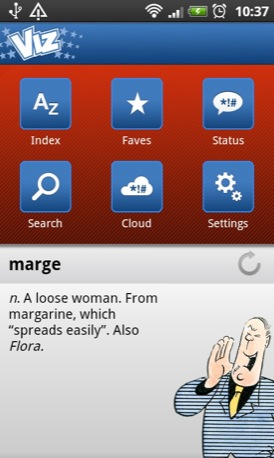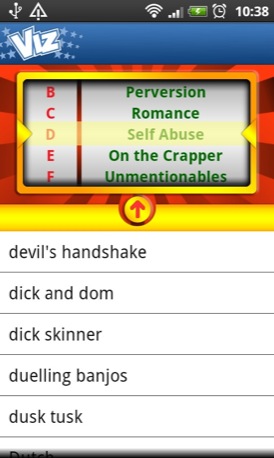 Look up rude words
For anyone who doesn't know what Viz is, the entire content of the app is based on sexual, regurgitory or lavatorial undertakings. There is nothing remotely uplifting, pleasant, politically correct or educational going on here. Much of it is bloody hilarious, though.
To be honest, with 12,000 entries the quality is a bit variable. Some entries just aren't all that funny, and some are too self-referential for their own good, but a healthy number will have you on the floor in the hysterics.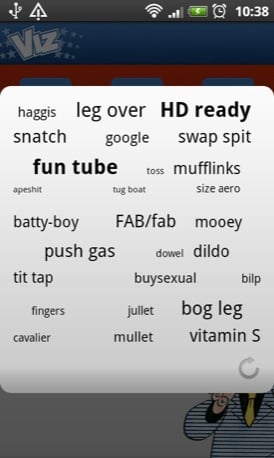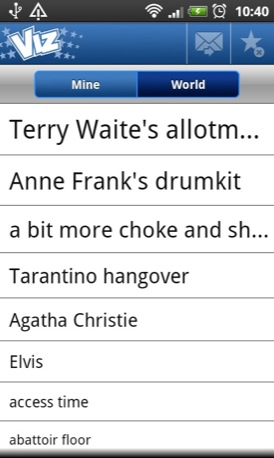 View words randomly (left) or see what online viewers favour (right)
The definition of the "Gibraltese backhand" had me laughing so hard I ran short of breath bringing the other half running into the lounge fearing I'd had some sort of fit or seizure. "Hello Cleveland" had a similar effect moments later.
For a light-hearted app, the design and look are of the highest quality. The main dashboard lets you browse phrases alphabetically or search for specific words. You can also browse by subject: romance, perversion, unmentionables, self-abuse... you get the general idea.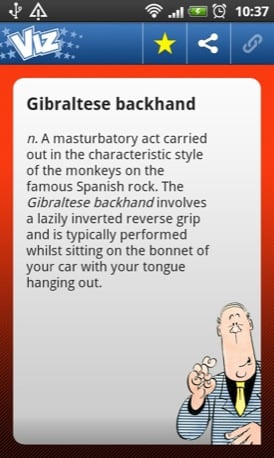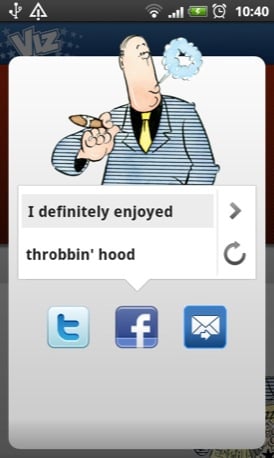 Find a favoured definition and share it
A single tap on an entry will save it to a favourites list for future jocular relief while the cloud button generates 27 random words you may wish to probe further. There is also a shake-to-refresh facility.
The status screen lets you post content directly to your Facebook or Twitter accounts, and there is a handy 4x1 widget which throws random definitions to your home-screen. A quick tap on Roger and it refreshes instantly.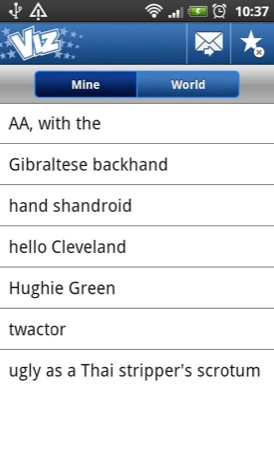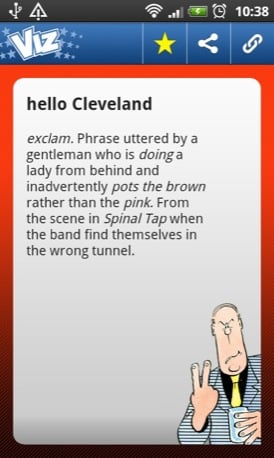 Work up your own list of vile verbiage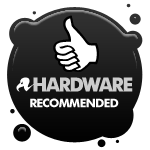 Rummage around in the settings and you will find an option to subscribe to Viz as well as a facility to e-mail in your own Mellie-isms. ®
Size 6.1MB
App2SD Yes

We make our choice of the best Android smartphone and tablet downloads every Tuesday. It you think there's an app we should be considering, please let us know.
More Android App of the Week Winners

SanDisk
Memory
Zone
HeyTell
Elixir 2
Skifta
Hologram
Live
Viz Profanisaurus
All the rude words and phrases - 12,000 of 'em - you could ever possibly want to giggle at.
Similar topics