IBM preps boost for Power Systems
Just don't call it Power7+
---
Big Blue is getting ready to do a bunch of enhancements on its Power Systems lineup either this week or perhaps next week, but don't expect any kickers to the current eight-core Power7 processors, which first made their debut in February 2010 and were rolled out through the summer of last year.
That's because, contrary to what some of IBM's own documents had been suggesting, Power7+ is not as much around the corner as many people might have believed. IBM has encouraged this impression: take for example this chart below, which Big Blue's competitive analysis team put together sometime in September in the wake of Oracle's preview of the Sparc T4 processor in August and its launch in September: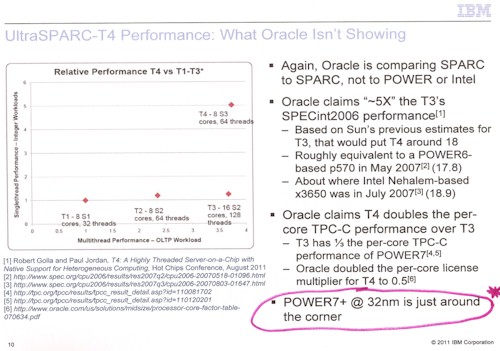 Power7+ must be just around a different corner
There were other Power processor and system roadmaps, which are as scarce as hen's teeth, that I have shown you in the past several months – try here and there – which suggested something was in the works for late 2011, and many of these included Power7+. So you can understand why, when El Reg heard from inside of Big Blue that server announcements were coming out in October or November that one of the things we believed would be coming was the Power7+ kicker. It's not clear yet exactly what IBM is doing, but according to business partners that have been briefed on Big Blue's server announcements, the one thing that the company wants to do is keep selling Power7 machinery.
Perhaps we will see Power7+ next year, along with Intel's "Sandy Bridge" Xeon E5, which had a launch shoved out into early 2012, even though Intel is selling the processors on a non-disclosure basis to hyperscale cloud and supercomputer customers. Why launch – or make an announcement about – a new chip when you can sell all the ones you can make without having to pay for the public relations. It seems likely that with IBM not announcing Power7+ and Intel not announcing Xeon E5, then Advanced Micro Devices is probably thinking that delaying the "Interlagos" Opteron 6200 launch makes sense. AMD has just hired a new CEO and said sayonara to the general manager of its Products Group, and created a new server division to try to take the fight back to Intel. The Interlagos chips started shipping in September, but later than AMD thought they would because of delays at its foundry partner, GlobalFoundries, in ramping up its 32 nanometer process.
None of this matters much to Power Systems customers in the short term, who can wrangle for deeper price cuts on existing Power7 iron to run their jobs. That said, it is always better to get as much performance per core, socket, or system as one can, because that is how software that is priced these days.
According to sources familiar with IBM's plans, Big Blue will be doubling up memory capacity on its entry and midrange Power Systems boxes. The machines will also sport other I/O enhancements and some fat-cached SAS disk arrays. Technology refreshes are also expected for the AIX and IBM i (formerly OS/400) operating systems. ®