'Buggy' Facebook iPad app finally emerges
Stalking slab smudgers are smiling, though
---
Merely one year, six months and a week after the iPad was launched in April 2010, the Facebook app for iPad has finally hit the iTunes app store.
Before yesterday night, fondlers of reassuringly expensive slabs either had to use a resized iPhone app or the web version of the site to stalk their way across Facebook. According to rumours, Facebook had the app up and running in its private sanctum for at least five months but has delayed its release as a bargaining chip in its negotiations with Apple. Facebook was keen, reportedly, to gain greater integration into iOS 5.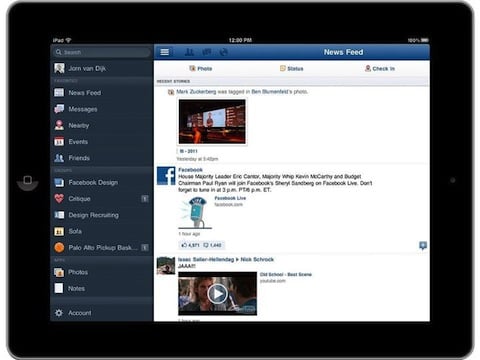 According to Facebook's official line, it released the app now because it wasn't ready before:
"We're releasing it now because it's done," said Bret Taylor, the firm's chief technology officer assured the BBC.
The BBC reported a buggy launch, but iPad users on iTunes and Twitter seemed happy with the product. Atlantic Wire actually went as far as describing the app as being "like its own little operating system within Apple's iOS".
Apart for the smooth photo viewer and the fact that it now fits properly on the screen, key features seem to be the prominence given in the platform to a better games and apps "experience". This is all part of Facebook's new commitment to third-party developers, as alluded to by Zuck at the f8 conference.
Bugs seem to include a dock compatibility issue, where the send button disappears when iPads are docked, and some users reported that the left-hand button bar didn't respond to taps properly. A new version of the app for iPhone has also been released and the mobile web version has been overhauled as well, according to Facebook's wonks. ®