This article is more than 1 year old
Wall Street protest app Vibe is secure enough, cries dev
This is between you, me and any determined Feds
That new "anonymous Twitter" app we wrote about last week? It is more anonymous than Twitter – but it isn't actually very anonymous.
"Vibe isn't like BBM, which is encrypted," New York-based developer Hazem Sayed told The Reg. "This wasn't designed like BBM was for exchanging confidential market information, but we don't have information that we store other than where the user posted the update from."
Vibe came to the attention of the international media because it was primarily being used by protesters at the #OccupyWallStreet demonstration instead of Twitter – partly because it lets you connect with people who are close-by in real life rather than just people you follow and partly because it is more anonymous and more secure. You don't need an account, as it doesn't record your IP: just your location. The messages self-destruct after a certain period of time.
#OccupyWallStreet has now spread to around 60 other US cities.
The app's interesting not just because protest has kept growing, but because of the role social media increasingly plays in popular uprisings, whether they're noble – Twitter in Egypt and Bahrain – or looty – BBM in the London riots.
We pushed Sayed. How deep does the anonymity go?
"What does anonymity mean?" he replied. "Vibe is for people within a group who want to be anonymous to each other, whether that's people at a conference or students at a seminar not being afraid to ask stupid questions."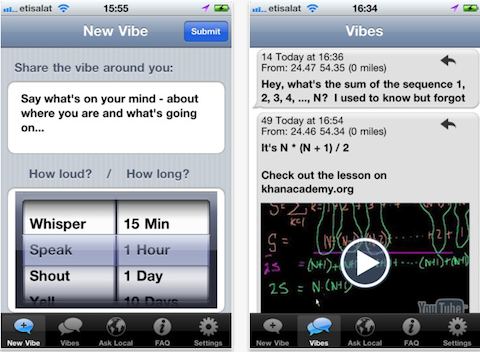 Just because Vibe is more secure and anonymous, it isn't completely secure or anonymous. And El Reg readers were all over the security holes. To take one example of the searing analyses posted on the comment board of our last story:
"So let me get this right ... in order to receive the Top Secret messages from your fellow anarchists .. all you need to do is subscribe your mobile (which is linked to you by the account you signed in from) to this server ... and send the server your location information on a regular basis ... then by subscribing to the channel "#burnWallstreet" you can escape from The Man by getting Top Secret warnings ... "Errr ... so you identify yourself to the server, allow it to map your position, and then indicate your intentions by channel subscription ... Sounds great!"
Sayed admits that the app is far from watertight. But according to him that's not the point:
"The data on our app doesn't get stored by us, but between the phone and the network providers; they keep logs that can be used for all sorts of purposes," he said.
"Vibe is not designed to make those things difficult to do for those agencies – but it would be more difficult than say Twitter or Facebook, where all that's required is a password and you have access to all a user's messages and contacts.
"The app isn't trying to circumvent anything. It's more about a philosophy of the mobile web. You don't need registration, just a mobile. The idea of having an account comes from the web era where lots of people may have used the same computer. Vibe is a mobile thing."
And Sayed has been pushing his product hard. The developer has been travelling to various American cities, introducing Vibe to people through a series of projections on screens he calls "Vibe Walls".
He actively pushed the adoption of Vibe at the beginning of the #OccupyWallStreet protests by handing out leaflets in Zuccotti Park about the location-based mobile app and setting up a projector in the square, allowing anyone nearby with a mobile to send their thoughts to the screen. The Vibe Wall stayed up every night for a week during the first week of the #OccupyWallStreet protests, which began on 17 September...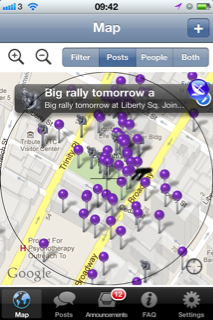 The vibes in Zuccotti Park – previously known as 'Liberty Plaza'
– in New York, viewed through Vibe's "sister app" AskLocal.
Though the police have shown themselves willing to arrest protesters, Sayed doesn't think that it will be worth their while to track down phone logs and chase up Vibe messages, something the UK government threatened to do with the BBM chat logs of local looters' exchanges during the riots. He said:
Even if the police can find out about it – what are they going to do? Go track down network logs to find out that someone up ahead on the road told people down the road that there was a police block? I see that the police could get paranoid about it, but it's just people sharing what they think.
The Reg doubts the FBI will hunt down all the revolutionary hipsters responsible for slathering the Wall with Ghandi quotes, but perhaps Sayed knows something we don't...
Vibe is available for free on iPhone and on Android. ®