Sneak peek: Revamped Opera gets turboboost
So much is new, but it's mostly under the hood
---
Pictures Oslo: Opera has lifted the lid on a range of new technology today – and is making fresh versions of the Mobile and Mini browsers available to world+Android-using dog this afternoon. The first alpha version of version 12 for the desktop follows on Thursday. We had a sneak peek at them all in Oslo this morning.
Two versions are available for mobile users: both use Opera's vast global cloud surfing infrastructure (recently copied by Amazon). The ultra-lightweight Opera Mini, which has Apple's blessing, performs all HTML and CSS parsing and JavaScript on the server; the Mobile browser performs more on the client side, and allows the user to turn off the cloud compression proxy altogether.
The changes in the mobile versions of Opera are almost all about performance. The new Opera Mobile 11.5 for Android looks very similar to its predecessor, with a new data counter as the only new UI feature. All the changes are under the hood, and it feels dramatically faster. Even on graphics heavy pages such as, er... El Reg... panning and scrolling were instantaneous. Opera promises "no chequerboard" for mobile surfers, and seems to have made good on this. A date hasn't been set for iOS versions – that's up to Apple. Opera Mini reaches version 6.5. Both are available immediately.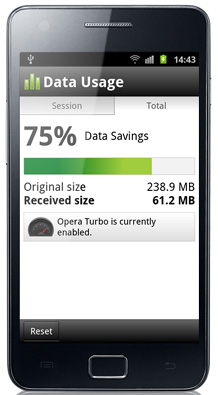 Opera for mobile phones: Mini reaches 6.5, Mobile 11.5 today.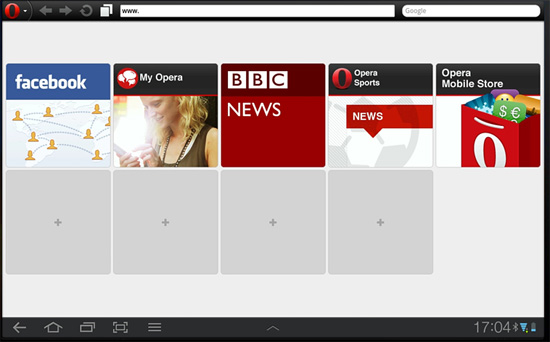 Opera 11.5 Mobile for Android-based fondleslabs.
Most, if not almost all innovations in desktop web browsing over the past decade have been created at Opera – and then shamelessly cloned by copycats: from tabs, to speed dial, to proxy acceleration. What's new in 12 is less visually dramatic.
The bleeding-edge desktop Opera, version 12, includes support for hardware acceleration via WebGL, with Angry Birds one of the games showcased.
Opera already has software support for graphics in 11.5, but the hardware support increases things. A demonstration of Microsoft's "psychedelic browsing" HTML5 test on the Mac saw the Opera 11.5 with no hardware acceleration notch up 864 rpm; the latest Chrome with hardware acceleration score 498 rpm; and the Opera 12 reach 1,950 rpm.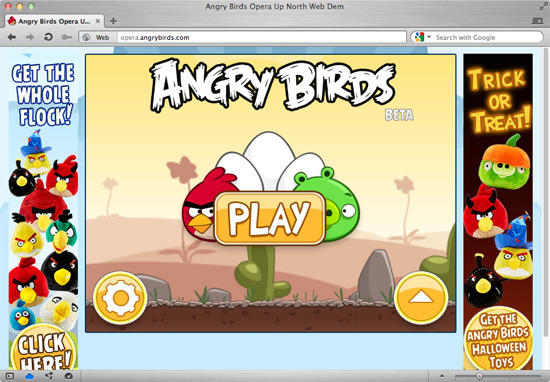 AngryBirds in HTML5: available from Thursday.
[Click to enlarge]
The new desktop browser also includes a rewritten JavaScript engine – Opera's JavaScript engine is always being rewritten, it seems – improved theme support, more functionality in the speed dial, and page reading.
Similar topics
Broader topics