This article is more than 1 year old
Dark Souls
Death awaits
Review Plunging from a treacherous rampart, slowly succumbing to the poisonous bite or bludgeoned by a monstrous ice giant – Dark Souls wants you dead. And it doesn't care how.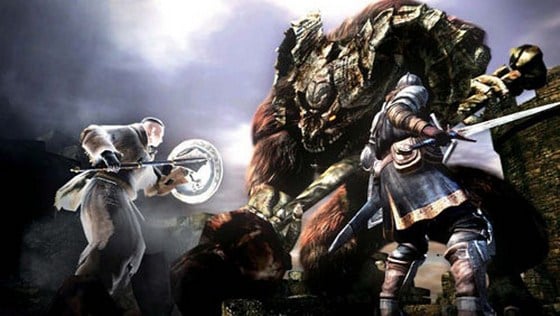 Shanking of the colossus
That should come as no surprise, of course. Anyone who dared play last year's Demon's Souls knows all too well that death will be their constant companion throughout the follow-up to From Software's infamous RPG. While Dark Souls is as tough, if not tougher than the original, it's also every bit as insanely addictive and rewarding.
It's also as uncompromisingly inaccessible. Many adventurers will be lured into its relentless punishment by the conventional RPG façade, but few will make it past its opening few hours, let alone the 50 or so required to see one of its multiple endings. Where other RPGs lavish players with upgrades and stat modifiers for the most humble exploration and hacking-and-slashing, Dark Souls demands nothing less than complete mastery of its prescriptive systems to overcome the seemingly impossible challenge.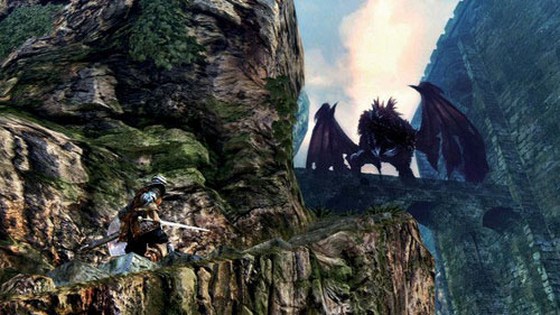 A tricky fight... just have to wing it
Despite a new narrative and setting, Dark Souls' black heart pulsates with the same core mechanics that made the original such a cult classic. Success here is rewarded not with spoils and omnipotence, merely the right to survive to face the next, even tougher challenge. Each and every lapse in judgement or rash impatience is punished with death, and even the weakest of enemies can kill in a couple of strikes – a mistimed lunge or parry swiftly answered with a mortal riposte.
And so you inch your way forwards, cowering behind your shield, observing enemy strike patterns for a fleeting opportunity to deal a decisive blow. But it's not just enemies who can kill you. The world of Lodran is replete with environmental hazards, from enemy-infested cul-de-sacs and spiked pits to rickety, vertiginous walkways and rooms filled with giant, bladed pendulums.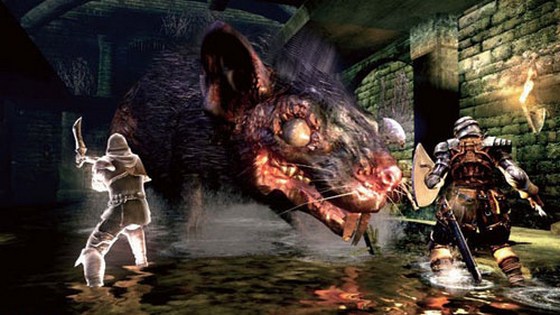 The mad ratter
The only respite comes in the form of bonfires, places of sanctuary scattered throughout the world. Once lit, they provide respawn points to recharge health and magic, level up, fix or upgrade weapons and armour, and refill your Estus flask with a restorative critical to surviving between bonfires.
But there's a catch. Resting at bonfires respawns all regular enemies throughout the world, transforming progression into an intricate game of risk and reward. Do you press on in the hope of finding another bonfire, unsure of the dangers lurking around the next corner? Or do you retreat to the last one to recharge, knowing you'll have to fight your way through every enemy again on your return?