This article is more than 1 year old
Dark Souls
Death awaits
Roll the die
The constant gamble is magnified by the game's fragile economy. Soul points are carried over from Demon's Souls as the game's only currency, driving everything from levelling-up to purchasing consumables. Die, however, and all your hard-earned soul points are deposited at the scene of death. Fail to reach the exact same spot with your subsequent life and you'll lose them forever.
It's a system which instils an increasing sense of vulnerability the farther you venture from a bonfire, but it's also one that allows for some essential farming, as you learn to exploit gauntlet runs between bonfires to harvest souls.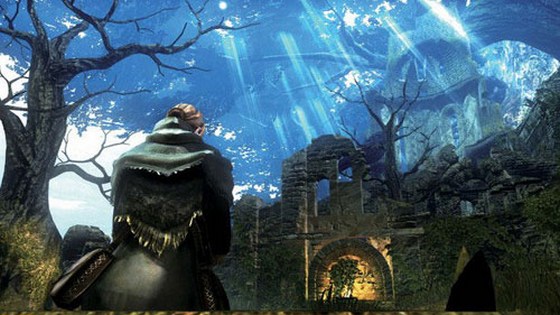 Shine on the shrine
While farming outstrips the difficulty curve in other RPGs, here it's vital just to keep pace with the exponential difficulty. As is discovering some of the many powerful items hidden around the world, such as magic weapons and rings. But even here, Dark Souls stays true to its exacting philosophy, demanding studious observation of the environment to scour for illusory walls, hidden paths and hard-to-reach areas.
There's little to guide your quest, too. Firelink Shrine works as a hub to connect Lodran's many lands, but it's a very different place from Demon's Souls' Nexus. It's populated with enemies, for a start. And there are no gateways or loading screens. Instead, you move seamlessly between lands with no world numbers to signpost the challenge ahead. So while you might be able to reach a new land through Firelink Shrine, death is the only indicator whether you're ready to.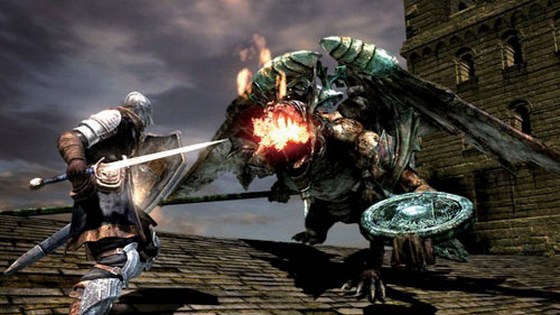 Don't look at the mantlepiece when stoking the fire
It's typical of the game's pervading reticence. There's little narrative to accompany your adventure, just a scant, opaque exposition casting you as the chosen one to make an undead pilgrimage to the land of Dark Lords. NPCs rarely offer anything in the way of elucidation, either - you're far more likely to receive their sneering derision than any odd titbit of guidance. And there are no maps, quest logs or objective markers to aid you.
Instead, Demon's Souls' revolutionary online features return to temper - or indeed, exacerbate - the formidable test. The messaging system remains an ambivalent tool for benevolent, malevolent or downright humorous use, but, in a heart-warming show of solidarity, it's cheering to see the vast majority of players continue use it altruistically.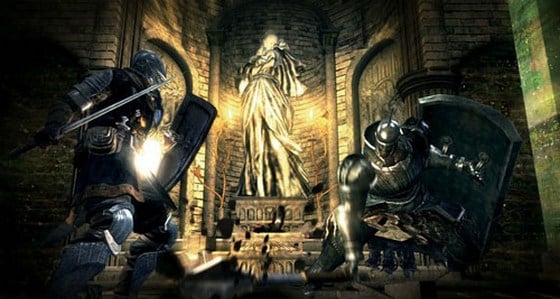 Statue of misery
And for the truly hardcore Souls' players, the esoteric summoning and invading options return to provide co-operative and competitive play.
Verdict
Dark Souls is the most difficult game of this generation and, outside of the high-score games of yesteryear, probably one of the most difficult of all time. It's also one of the greatest too. The relentless difficulty will deter most, and many will fall along the way. But while few games demand as much from their players, even fewer reward them so spectacularly. ®
More Games Reviews

Rage
Ico & Shadow of the
Colossus Collection
Rise of
Nightmares
F1 2011
Gears of War 3

Dark Souls
Once more into the breach, dear friends, once more. Available on PS3 (tested) and Xbox 360.