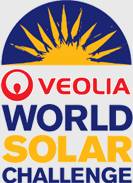 WSC At almost 3000km in length, the Stuart Highway is the world's longest road. The highway traverses the middle "strip" of Australia, connecting Darwin in the north with Adelaide in the south, and cuts through hostile terrain, mostly desert and mostly flat.
Also it's bloody hot - with day-time temperatures hitting 38C in the northern third of the highway at this time of year. And it's sunny all day, with a daily average of 9-10 sunshine hours in October.
The route through Australia's Outback is sparsely populated and the two-lane road is hardly throbbing, which makes it pretty much the perfect venue for long-distance solar-powered car racing.
And that is why the highway is, for the eleventh time, the venue for the biennial World Solar Challenge, probably the most prestigious electric-powered car race.
This year 39 teams assembled from top universities in 21 countries have entered solar powered electric cars for the 3000km extreme endurance event. For the first time The Register's Special Project Bureau is there to cover the proceedings.
Cars set off from Darwin on Sunday, October 16 and the leaders are expected to hit the finish line in Adelaide sometime on Wednesday afternoon (October 19).
Race cars are long and low and festooned in photovoltaic silicon panels. They look like this: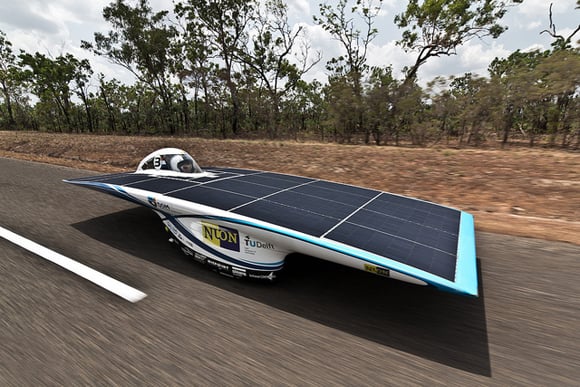 and this: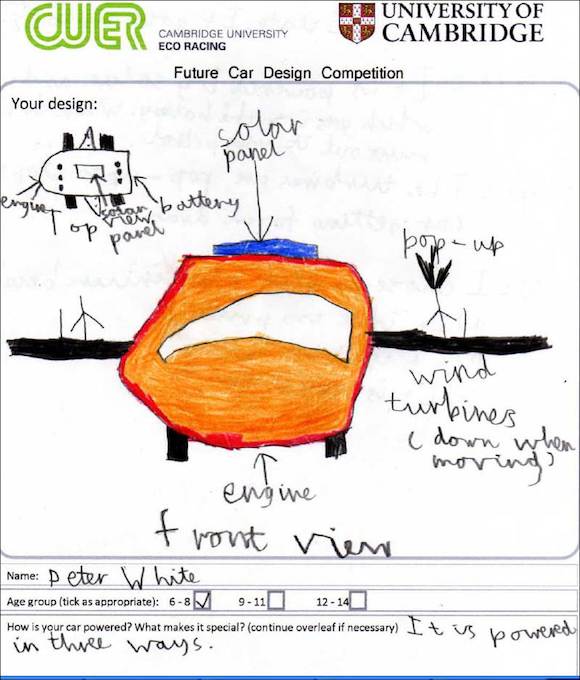 Lovely competition idea from Cambridge University Eco Racing (CUER) team
Wherever I lay my car
The World Solar Challenge is a single stage race with seven compulsory checkpoints along the way, giving El Reg the chance to catch up with the teams while they clean up and fix up.
Contestants take to the road for eight hours each day until 5pm and must make camp wherever they are at that time.
Each team is allowed two to four drivers who race in shifts of up to four hours. This gives them recovery time for the next stint, a welcome respite as race cars have no air conditioning and cab temperatures can reach 50C. (One Canadian racer is taking steam yoga classes to acclimatise.)
Contestants must obey speed limits, which could be a challenge in itself as South Australia imposes a distinctly unchallenging top speed of 110km/h.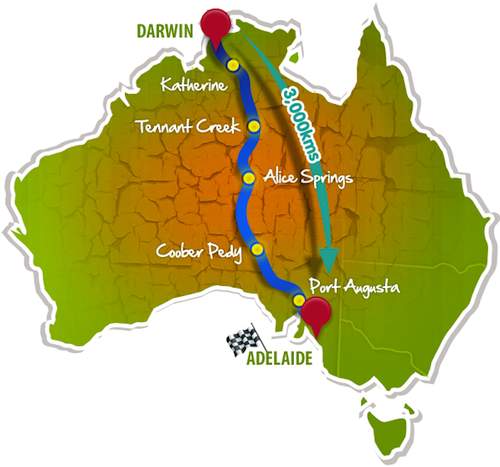 Unlike the racers, we, that is, Lester and I, are not roughing it. The Stuart Highway is bitumened its entire length and race organisers tell us we don't even need a 4x4.
This is unconvincing and so we are following the race in an air-conditioned Toyota Land Cruiser - and kipping in road houses and motels. There are towns and road stops every 100km-200km.
We shall try our best to file updates every day and there's always Twitter - you can follow us following them at http://twitter.com/regspb. Admittedly, we don't have satellite-anything and we know that mobile phone reception and internet access are patchy. Yes, our excuses are well prepared.
Reg SPB maestro Lester Haines is filming the World Solar Challenge and we expect to get a nice HD video for your delectation shortly after the race finishes.
I will cover race rules in more detail in our next article tomorrow. ®