Intel turns its back on the small screen
Will design chips for computers, not TVs
Intel will no longer try to get its system-on-a-chip products inside TVs having largely failed to persuade telly makers to do so.
A company spokeswoman told Bloomberg that the designers and engineers working on Intel's CE chippery will shift their focus to products for computers, tablets and phones.
Intel has been trying to win over TV manufacturers for the best part of five years. It's first real consumer electronics-oriented SoC, the CE2110, launched in April 2007, but it had been evangelising the product category before then.
The CE2110 was one of Intel's last ARM-based parts. The following year, in Sepetmber 2008, Intel shifted the line to its own x86 architecture with the CE3110, an SoC that was superseded in September 2009 by the CE4100, Intel's first CE-centric part based on its Atom processor.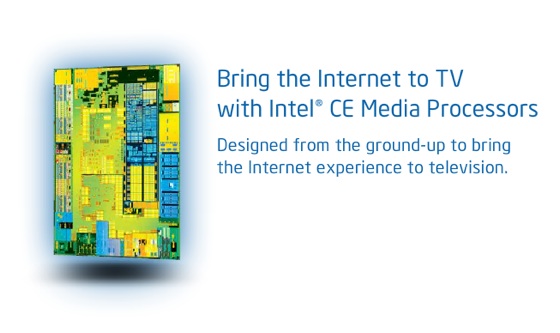 No longer
It had high hopes for the part. The CE2110 and CE3110 were essentially foot-in-the-door products - it was the CE4100 that was going to really get the company into tellies and set-top boxes.
At launch, Intel CEO Paul Otellini told journalists that the chip giant would be selling more SoCs than mainstream CPUs by 2014.
That goal looks a lot less certain now - Intel makes SoCs for other applications than CE kit. The only name customers it has had are US cable company Comcast, which picked the CE line for a set-top box, and Sony and Logitech, which used the CE4100 in their Google TV products - a service that has singularly failed to set the TV world alight.
Yet, TV makers have never been keener to promote the concept of the "Smart TV" - a telly with internet connectivity and the ability to run apps linked to a range of social networking and IPTV services.
So there's demand there for smart TV-oriented chips. If Intel no longer believes it can satisfy that craving, it either couldn't match its competitors on price - or its Atom chippery justisn't up to snuff. ®