This article is more than 1 year old
RIM BlackBerry Torch 9810
Leading light?
Key features
When the keyboard is being used, the accelerometer won't flip the screen from portrait to landscape mode, so you'll need to slide the keyboard in when you're browsing the web, using the camera or watching movies.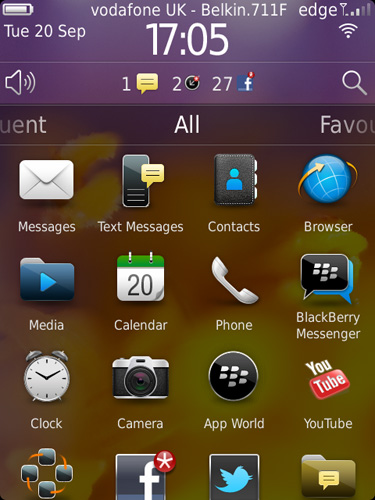 Main menu
The 9810 follows the Bold 9900 in featuring the latest BlackBerry 7 OS, which is very much an incremental update rather than a reimagining of the modus operandi. The icons look a little different and it's a bit quicker and easier to move through the menus – there are four shortcut icons at the bottom of the screen and you can brush these to the side to show others in different sections: All, Favourites, Media, Downloads and Frequent.
Also on board is the new BlackBerry Universal Voice Search. This worked fine, although it doesn't have as many features as Google's version for Android, which offers multiple interpretations of your spoken words.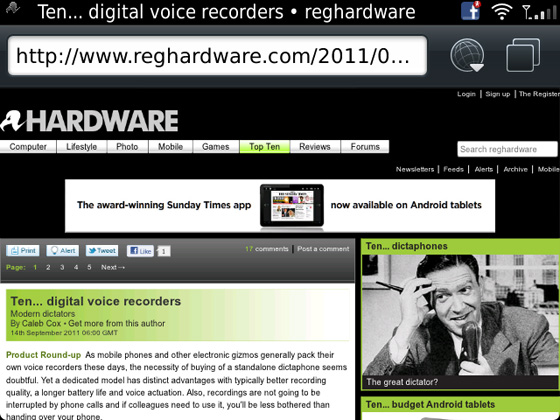 Browser
The Torch 9810 also features the latest version of RIM's saving grace, the ever-popular BlackBerry messaging service, BBM6, which now lets you text your mates while you're in the midst of using some of the apps. Oddly though, this version doesn't include the NFC (Near Field Communication) that was present on last month's Bold 9900 – not that you'll miss it.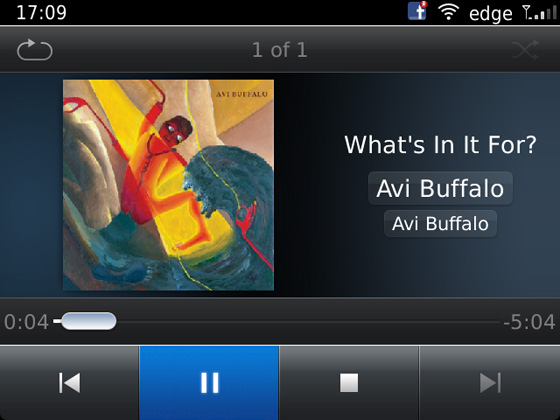 Music player
The single core 1.2GHz processor is plenty fast, with twice as much power as the original Torch. It may not have a dual-core badge – so there's no option for full HD video recording – or the highest level of mobile gaming, but apps open quickly, browsing is fast and things nip along nicely even when you're multi-tasking. What's not to like? OK, so there's no Flash support on the browser, but it's pretty slick whether on Wi-Fi or HSDPA.