Win 8 haters are just scared of change, say MS bosses
Start screen tweaked to please crybabies
Microsoft has tweaked the Windows 8 interface following feedback from last month's developer preview.
The company will let you customize the start screen in a move that'll likely favour the Metro UI-version of Windows 8 that Microsoft is targeting at fondleslabs, if we've parsed a lengthy blog post here correctly.
The lengthy post is larded with user reaction data that now forms the basis of the Windows group's justification of Windows 8 features and rebuttals to critics.
After weighing up the feedback, Redmond's developers have rather gently suggested that some of those objecting to changes in the Start Screen in Windows 8 are just reacting to change, no matter whether it's good or bad.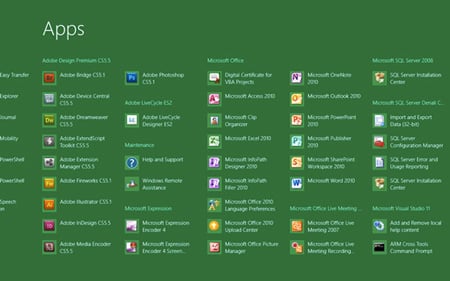 Windows 8 Apps Screen: packs in more
Marina Dukhon, a senior program manager lead on the core experience team, wrote on Microsoft's Windows 8 blog on Tuesday: "One common theme in the comments has been an immediate rejection of change with the assumption that any change will reduce productivity so much that it will never be regained."
She was echoing comments from her boss, Windows group vice-president Steven Sinofsky, who prefaced the post saying: "We've seen a some small amount of visceral feedback focused on 'choice' or 'disable' - a natural reaction to change, but perhaps not the best way to have a dialog leading to a new product."
Dukhon continued that in the upcoming Windows 8 beta, which still has no release date, you'll be able to create, name and re-arrange groups - which are collections of files and apps.
In the developer preview Microsoft released in September, you can already try flexible group sizes, unpinning tiles, and resizing wide tiles to square tiles
"The personalization of the Start screen is one of the features that we want to make great," Dukhon wrote.
The Apps Screen, which shows all apps installed on your Windows 8 PC, has been changed so programs can be grouped instead of listing them alphabetically.
Microsoft has also condensed the view so you can see more of the apps in one hit without needing to scroll. "It also decreases the need to navigate a wrapping menu structure or maintain folders or nested folders of programs," Dukhon said.
Jump Lists, introduced in Windows 7, are also getting changed for Metro.
Jump Lists are pinned to your Start Menu or Taskbar and designed to take you straight to any particular files, media, or website you like without lots of clicking.
Jump Lists in Metro will become more application-centric and less file-centric, as they are now on the desktop
"Our view for Metro style apps is more app-centric. The apps know better what kind of content they host: whether it's an RSS feed, an album, a score tracker, or a person's profile, and they can do a much better job exposing quick access to this content to the user," Dukhon said. ®