This article is more than 1 year old
BOFH: Where's my free fondleslab?
No one ever died from buying a ... >KZERRT!<

Episode 15
"Well it looks like the Company's doing well," the PFY says, handing over a glossy brochure.
"Really - how do you figure?" I ask, giving the Company's annual report the once over. "The bottom line looks pretty flat as far as I can see."
"I was just judging by the front cover - the limousine," the PFY says
"Oh that!" I say, turning to the cover in question to see a glossy image of the CEO stepping out of the front of the building and into a pristinely presented luxury vehicle."That's just a bit of product placement."
"Say what now?" the PFY asks
"The CEO - he likes travelling by executive land canoe, but the company wants to curb spending on extravagances and has suggested that he find some less expensive form of transportation. He, in turn, has no doubt made some deal with the limousine company in an effort to get discounted travel by effectively advertising their services to everyone who'd receive the report."
"And that would work?"
"Of course it would - I mean who reads company reports?"
"Uh... no one?"
"Exactly, which means that the reports get shuffled out of offices and sit around on coffee tables in company foyers for years with the front cover showing - being seen by visitors, etc."
"Ah, I see - so it's a sneaky viral marketing campaign."
"Sort of. But true product placement has several tiers and this is only an example of Tier 1."
"Tiers?"
"Yes. Tier 1 is just an image of a product. Tier 2 is an actual mention of the name of the product, Tier 3 is a positive mention of the product, Tier 4 is a reciprocated positive mention of the product and Tier 5 is a complete sell-out bordering on infomercial."
"Really? And the Boss was only at Tier 1..."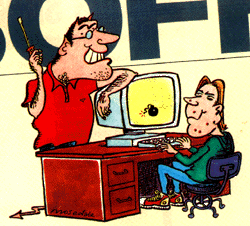 "Absolutely. And the sad and pathetic thing is that he did it for something as trivial as a discount on a ride that the company's picking up the bill for - instead of placing a technical product in an effort to get a free one from the manufacturer." I respond, moving my iPad 2 into a drawer before the PFY can catch sight of it.
"Hey - where did you get that iPad 2?" the PFY asks.
"This?" I ask, holding the aforementioned pinnacle of design excellence up so that it gleams nicely in the fluorescent light.
"Yes. Where did you get it?" the PFY asks enviously. "It looks great!"
"It IS great!" I respond. "And it's so easy to use with its intuitive touch screen interface!"
"And I bet it has fantastic battery life too?" the PFY says, looking longingly at it – as most people do.
"The battery life IS pleasantly surprising!" I remark.
"But you know what I like?" the PFY asks.
"The 3G connectivity and 64 Gig of internal storage - or the dual core Apple A5 high performance low power processor?" I ask.
"No, I meant my new Alienware M18X!" the PFY says, pushing me out of the game slightly.
"Really?" I ask. "Is that the one with the i7 extreme processor and 18.4 inch display?"
"It is – and I think it's great!"
"I'm sure you do – it certainly does sound like extremely good value for gaming money!"
"Uh. I didn't mention the price," the PFY says, being new at this.
"And nor should you have to. I'm sure that the folks at Alienware - and Apple for that matter - have put vast amounts of work into giving us a superior product at an embarrassingly low price!" I say.
"Yes, yes, I'm sure they have. And who better to optimise products for consumer affordability and product excellence than them?" the PFY asks.
Our impartial analysis of current hardware offerings is interrupted by the arrival of the Boss from the position-of-lurk outside the door of Mission Control where he's been quietly observing us for the past several minutes.
"Hi guys!" he gushes, pulling a brochure from out of this briefcase. "I noticed in our budget planning for the coming months that you've put in a project to replace some of the virtual server platforms with newer gear and thought that this might be a good opportunity to look into getting some of our Intel hardware from an old and trusted supplier. Like they always say, no one ever got fired for buying >KZERRT!<"
"No" I say, slipping the blue brochure into the shredder, "but several people have been beaten mercilessly by their support staff." ®
Register management would like to point out that Mr Travaglia's daring new media revenue-generation doublethink experiment - that is, inserting product placements into a satire on product placement - has sadly proven to be a commercial failure in that we found ourselves unable to obtain any money from the companies involved. As a punishment, we have kept all the free iPads and Alienwares for ourselves and given him none.