As El Reg told you earlier this week, IBM was, indeed, getting ready to enhance its Power Systems line of servers. But Big Blue did not, despite evidence to the contrary, have the Power7+ processors coming "just around the corner", as it was telling customers only a few weeks ago.
IBM did, however, launch new versions of its entry Power 710, 720, 730, and 740 servers on Wednesday that sport fatter memory and faster I/O peripherals, as well as goose the processor count on the Power 780, the penultimate machine in the current Power7-based Power Systems lineup. IBM also added some large-cache SAS disk adapters and made some other nips and tucks in the machines. (See our separate coverage on these enhancements.)
IBM mum about Power7+
In a briefing with Steve Sibley, director of product management for the Power Systems line at Big Blue, and Ian Jarman, manager of the Power Systems software products (operating systems, clustering, systems management, and related tools that run on Power-based servers), Sibley conceded that IBM didn't help lessen the confusion around the Power7+ launch in recent presentations, and Jarman was adamant that "this was not and was never intended to be the Power7+ launch."
While that may be true, by IBM's own espoused 36-month tick-tick schedule with a tock halfway between, Power7+ should have been here about now.
The Power7 launch schedule shifted all over the place in 2009. The Power7 chips were supposed to launch in April 2010 with the Power 750 midrange and Power 770 nearly-big iron, to be followed up by Power7 blade servers, the entry Power 720 and 740 rack servers, and the high-end Power 795 servers in October 2010. Look for yourself: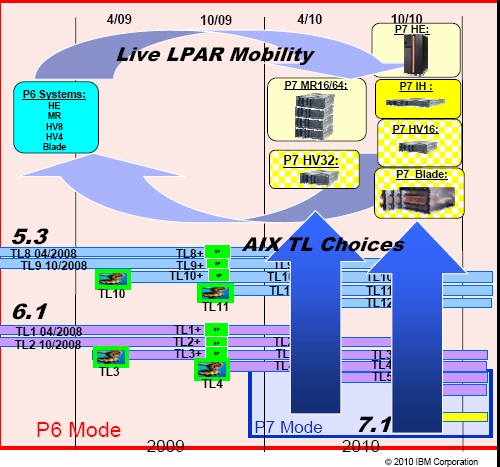 IBM's 'original' schedule for Power7-based systems
But with Intel and AMD rolling out a slew of new processors in March 2010, IBM decided to move up the Power 750 midrange servers to a February 2010 launch along with the Power 770, as well as launching a half-core, higher-speed variant called the Power 780.
Power7-based blade servers came out in April 2010, with the entry Power 710, 720, 730, and 740 machines as well as the Power 795 coming out in August 2010, thus completing the lineup.
In April of this year, the workhorse Power 750 was goosed with slightly faster Power7 processors and IBM doubled up the processor sockets on the PS7XX blade servers.
If you do the math and try to reckon when Power7+ might come out, you could start from the original April 2010 launch plan and count forward 18 months. That would give you September 2011. And so, even IBM's own people started talking about a Power7+ refresh happening in late 2011, as we previously revealed in some roadmaps of indeterminate vintage: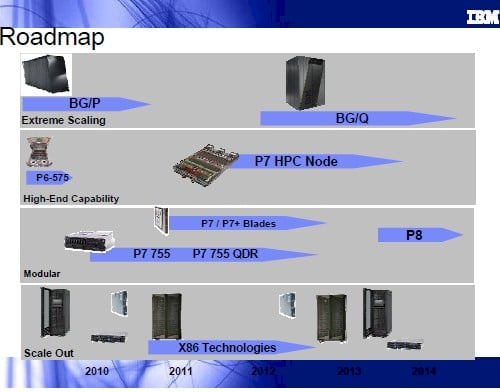 This roadmap at least admits there were Power7+ chips coming in blade servers sometime between now and 2012, and pegs the Power8 introduction for somewhere around the middle of 2013.
The following AIX roadmap is interesting in that it shows IBM's Unix variant being tweaked to exploit the Power7+ chips sometime in the second half of 2011: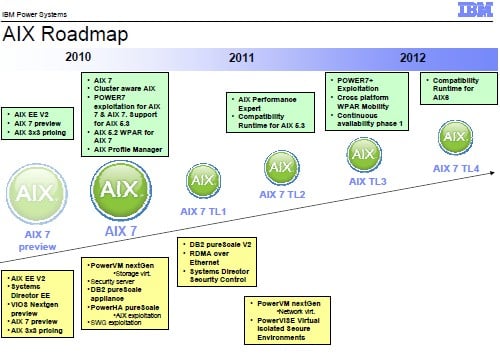 Exploiting a new chip in the operating system does not mean that a line of machines will ship with those new chips. Operating systems have to get the tweaks to run on a new chip ahead of the iron, so that hardware vendors and beta customers can do their testing on prerelease iron and therefore know what to fix and tune.
It was rumors of impending IBM Power Systems announcements in October or November (which turned out to be true) and this slide from a competitive analysis (from August or September) that would definitely give resellers and customers the impression that Power7+ chips were just around the corner: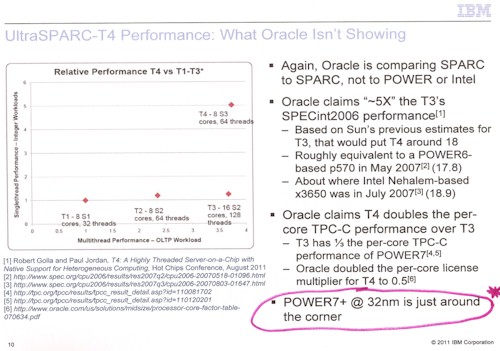 Power7+ must be just around a different corner
I have no idea what IBM's original Power7+ plan was, but I have a hard time believing that Big Blue – expecting Intel to roll out "Sandy Bridge" Xeon E5s, AMD to roll out "Interlagos" Opteron 6200s, and Oracle to roll out Sparc T4 processors in the second half of 2011 – would decide to go last with Power7+ chips.
Since IBM does not want to talk about Power7+ in any detail – the most recent roadmaps I can find show the chip being implemented in 32 nanometers and getting fatter on-chip eDRAM caches, and possibly faster clock speeds thanks to the shrink from the 45 nanometer processes used in the Power7 chips – we're left guessing, just as we were in the beginning of this whole process.
If we take IBM at its word, then it would be reasonable to conjecture that the deep-bin sort on the Power7 processors for the Power 750 and the doubling-up of sockets in April of this year was a stop-gap maneuver to blunt the faster Xeon and Opteron clock speeds that Intel and AMD put out a few months earlier, and to also get IBM's workhorse machines in better shape against the Sparc T4 systems from Oracle.
In addition, the tweaked versions of the machines that were soft-announced this week with double the main memory and an I/O upgrade to PCI-Express 2.0 (not 3.0) peripheral buses were another stopgap maneuver because Power7+ chips could not be ready by around now, when you would expect them.
Of course, IBM will argue that the Power7+ can't be called late because it never had a scheduled birthday. But this is nonsense. No matter how you cut it, the 36-month tick-tock schedule and the regularity that IBM brags about has been blown, and IBM's competitors will have some fun with that.
It seems likely that the Power7+ will slide into those four new entry machines and bigger Power 770/780 machines sometime in 2012, when we will also see the Xeon E5s from Intel and maybe – if AMD decides to take a breather and let GlobalFoundries ramp up the 32 nanometer processes used to make the Opteron 4200 and 6200 processors – we won't see new Opterons launched until next year.
The difference, of course, is that Intel is shipping Xeon E5s for revenue right now, and so is AMD with the Opteron 6200s. IBM is not shipping a Power7+ processor behind our backs, although Big Blue did pull that shenanigan with a lackluster Power6+ launch that occurred in October 2008, but which IBM called Power6 chips in the several systems that were using them.
In the meantime, IBM is telling resellers to focus on selling a particular model, not the underlying machine type with or without the fatter memory and faster I/O, and that it will transition to the newer models in 2012 and withdraw the original Power 710, 720, 730, and 740 machines from its sales catalog later next year. And in big, bold, red letters it has said to resellers: "Do Not Disrupt 4Q11 Sales."
Of course, the confusion around the Power7+ launch that IBM itself helped create probably didn't help Q3 all that much. We'll find out next week, when Big Blue reports its financial results for the third quarter. ®
Similar topics