Virgin Media customers in London and the South East have been rocked by internet outages that cut them off from big sites including Wikipedia, Yahoo! and the Guardian yesterday and this morning. Reg readers bombarded our inbox to report pockets of dicky service, which seemed to start on Sunday morning and is still ongoing for some people.
An error message spotted on the Virgin service page says that the problems will continue until Tuesday morning.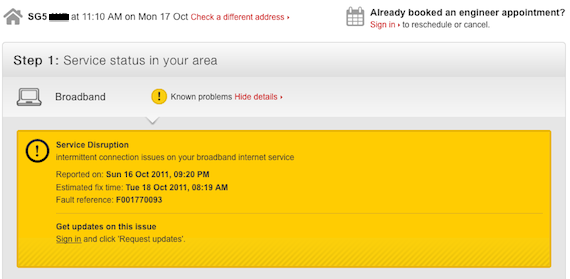 One reader, Glenn, told us:
Virgin Media has had massive routing issues this weekend. Customer services' voice message says it is a national problem. Many websites cannot be accessed without going through a proxy. It's being talked about on forums, which most people cannot access.
MartinShovel said on Twitter: "I'm in Brighton & I still can't access sites like the Guardian & the Independent. I'm tearing my hair out & renting my garments!" Tweeting StaticMass added: "What's up with Virgin Media since yesterday, cant seem to access some sites while others take ages to load."
JudeRogers tweeted: "It's been [down] since yesterday at 6. This is the third time this month. I work from home. Am paying you £40/month. Not good enough."
On Virgin Media help boards customers were logging in to report problems. Although Virgin's helplines and websites informed customers that there were outages, when El Reg contacted Virgin HQ this morning, staff said they weren't aware of any issues.
The spokesperson told us that Virgin Media had no reported server or data centre issues and that staff believed that "all of this could be specific individual postcodes or specific to individual customers".
We pushed them on precisely why the customer support sites and phone lined were confirming service faults while Virgin HQ had no knowledge of the problem; the spokeswoman said phone and web status messages are tailored to specific streets and postcodes, thus the problems are confined to small areas. So there are outages, but it's not widespread.
It comes a week after the Reg uncovered that rats had eaten through Virgin cables in Fife, Scotland, knocking out broadband to some Eastern areas. Are English rats to blame? We'll keep you updated. ®
Similar topics