Serious network problems in Glasgow have left Vodafone customers with a dicky 3G service for at least six months, according to a complaint the Advertising Standards Agency is investigating.
"A smartphone without 3G is an expensive paperweight and I am fed up paying £30 a month for this one," writes one pissed-off Glaswegian at the start of a Vodafone support forum thread about problems with the 3G network.
It's a discussion that has had 2,239 views to date, 165 replies (most get something more like 200 views and 10 replies) and as yet has no satisfactory resolution.
It's the same problem that plagued Glasgow-dweller Joseph Heenan for five months before he decided to make a complaint to the ASA in August. The watchdog confirmed to The Reg that its investigations team is now working on the case.
After taking umbrage at Voda's claims that its "network is built for data use" and that the operator has "built extra capacity" into its network, he wrote to the ASA detailing the misery of trying to access the internet from his phone anywhere near his office in the centre of the city. In an exchange of correspondence with the regulator, he refuted Voda's claims that users' mobile phones were at fault and that the problems were handset-related.
"The handsets in question work absolutely fine when not in central Glasgow," he said.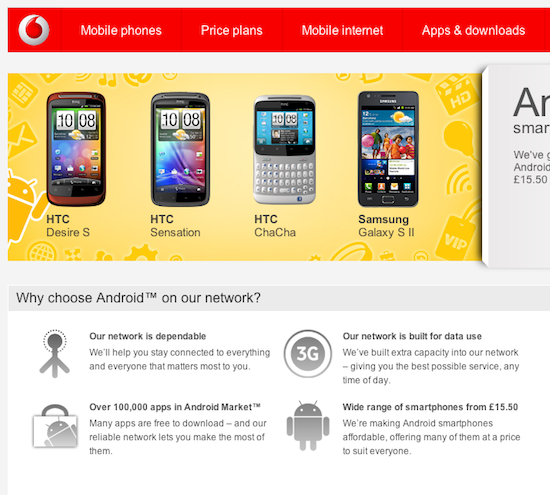 "Our network is built for data use," Vodafone promises on its website.
Joseph switched to T-Mobile in September, which he reports works just fine.
Three users we spoke to suffered the same problem: their phones showed good signal and claimed to have a 3G connection, but they were unable to fetch web pages, emails wouldn't download and apps that needed a net connection couldn't work. Joseph first noticed the problem in March 2011, Will Finlay in January, and Stephen Hynds in May, when he had to move to central Glasgow for work.
Will Finlay told us that he had taken to carrying round a MiFi portable dongle on the Three network around to provide internet to his iPhone.
Voda customers on Twitter report similar experiences:
@Leischa: Hey #Vodafone - I have a smartphone on an expensive contract - why do I need to tweet by text message? No signal in Glasgow again.
@MartinProvan: @johnco I see you spoke to @VodafoneUK about iPhone deals. I am on Vodafone would not recommend them as 3G is poor in Glasgow on my iPhone
Reception for calls and texts - which take greater priority over data - is also patchy. Will described how he constantly gets gets voicemails from calls that have never rung, and that texts will arrive in bunches 10 to 20 minutes after being sent. The affected area of the city comprises a significant area: the main shopping streets, the business district and the city centre's universities. The Apple store is in the heart of the dead zone.
How Vodafone responded to customers
Vodafone representatives on the forums responded to the complaints but largely to claim that there was no problem with the network. Where they did admit there were issues, they weren't able to offer particularly helpful solutions. One forum moderator recommended that customers simply used the old 2G network instead:
Calls on 2G seem to be unaffected by this issue so you can still use your phone for its purpose (making calls).
Since when has the primary purpose of an iPhone been to make calls?
Going through the call centres didn't produce any better responses; Stephen described the help on offer from the operatives as "utterly useless". He said: "Instead of reading the thread they'd simply ask you to check your phone wasn't faulty, and to test it with another. They'd also tell you that their coverage checker said everything was great and that it couldn't possibly be them."
Stephen found that accepting a credit note from Vodafone invalidated his case when he complained to an ombudsman in an attempt to get out of his contract.
"I've since complained to the Ombudsman who got back to me saying that since I'd accepted £20 credit from Vodafone they couldn't do anything as that effectively closes the case," he said.
Stephen has appealed and is waiting for a reply.
According to Will, who received a call from a Vodafone field engineer in September, the connection did improve for a period recently but only for one or two weeks, before going under again, a fall-off he attributes to the return of smartphone-toting students at the beginning of university term.
Will, who has some knowledge of mobile networks having worked for a rival company, suggests that they need to increase the backhaul of the site: "I have a feeling that Vodafone are stuck in their old ways. They need to put more money into upgrading their networks."
Vodafone response
The Reg put the blokes' experiences to Vodafone. They had this to say to us:
We understand the frustration of customers using 3G data in Glasgow as we know our network has seen some issues in that area. These aren't related to capacity bottlenecks or a lack of investment in the area but to some software quality issues, coupled with the need to attain planning permission to install additional sites.

We're investigating some issues connected more specifically to certain sites in the centre of Glasgow. It's our priority to sort this out and we hope to see further improvements very soon.
The ASA has, in the past, ordered Voda to withdraw dodgy claims about 'unlimited' data packages in adverts. ®
Sponsored: How to simplify data protection on Amazon Web Services