Michael Dell declines to eat his Apple (humble) pie
1997 'shut it down' advice explained
---
Web 2.0 Summit On the day Apple releases its quarterly results, which are broadly expected to make it the most valuable company the world, Michael Dell attempted to explain his infamous comment that Apple should be shut down and sold off.
In 1997, Dell was speaking at a Gartner symposium and was asked what advice he would give to the new Apple chief executive Steve Jobs. He replied that Apple should shut itself down and give the money back to its shareholders. Dell was asked about that comment on Tuesday at the Web 2.0 Summit in San Francisco, and sought to explain his remarks.
He hadn't liked the question in the first place, he said, and replied twice that he didn't give advice to other chief executives, since he was focused on Dell. In the end, he made his comment as a way of shutting down the questioning.
"The meaning of my answer was I'm the CEO of Dell, my answer was largely misconstrued," he said.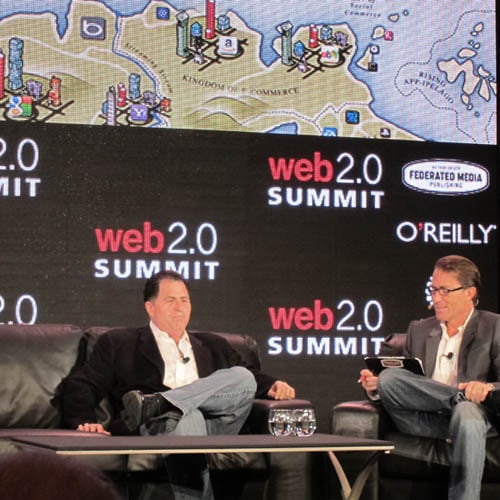 Michael Dell (left) forced to eat humble Apple pie
He praised Apple's current position, but pointed out that Dell's stock had risen 16,000 per cent since it went public, so the company wasn't doing too badly. He also paid tribute to Steve Jobs, and was visibly downcast as he recalled first meeting Jobs at an Apple users group in Texas when he was 16 years old, and how the two men had become friends later in life.
In a wide-ranging discussion, Dell said his firm was switching over to services, with 40 per cent of staff currently working on that side of the business. He emphasized, however, that he was also committed to staying in the business and consumer hardware space and had no plans for selling off divisions, as HP is considering.
While he refused to be drawn on giving advice to the new HP boss Meg Whitman – perhaps in light of his comments 14 years ago – he did say that the current confusion at HP was a major opportunity for Dell and its partners. Enterprises, in particular, were very concerned about HP's future in the hardware space, he said.
"Any uncertainty and confusion in the industry is an opportunity. It's an opportunity to explain to customers our commitment to the industry and what we do," he said. "We've also been recruiting a lot of new partners recently, with over 100,000 signed up." ®