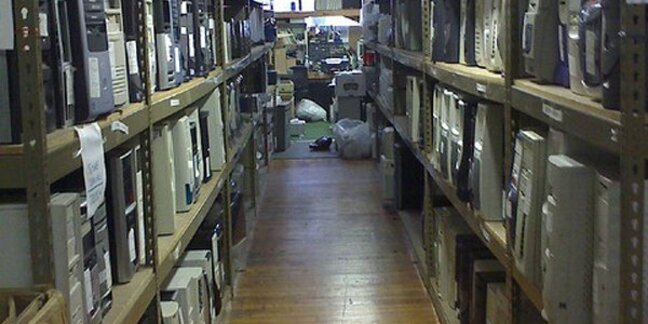 EMC damn near sold $5bn (£3.2bn) worth of hardware, software and services in 2011's third quarter and is on track for an almost $20bn (£12.7bn) revenue haul this financial year.
The happy Hopkinton, Massachusetts, firm reported revenues of $4.98bn, up 18 per cent from Q3 2010's $4.21bn, and higher than the previous quarter's $4.85bn.
Net income was $606m (£385m), 28 per cent more than last year's Q3. Head hombre Joe Tucci and CFO David Goulden have waxed lyrical about the numbers, and why not: EMC is a money-making machine operating against a macro-economic background that is dull, miserable and threatening to get worse. The company is on fire.
We're told storage product revenues grew 16 per cent year-on-year, mid-tier storage (VNX, CLARiiON, Celerra, Data Domain, Isilon, Avamar and Atmos) grew 28 per cent, VMware was up 32 per cent and RSA was up 16 per cent.
Within the mid-tier segment, Isilon, Atmos and Greenplum together grew more than 100 per cent.
Whatever people may think about big data and the cloud, EMC is ramping up storage sales and storming ahead.
El Reg is informed VCE continues to gain momentum but we were not given any numbers. Nor are there any numbers for the information intelligence products such as Documentum, which has not been a success story for several quarters. Maybe more will come out in the earnings call with financial analysts later today.
EMC's outlook for the full year is revenues exceeding $19.8bn and net income above $2.4bn. ®
Sponsored: Ransomware has gone nuclear