Making connections
Some cameras, camcorders and other gadgets can connect directly this way too to show their content on the screen, while the analogue AV outputs also work as inputs for attaching other devices. There is no memory card slot, but USB card readers will work.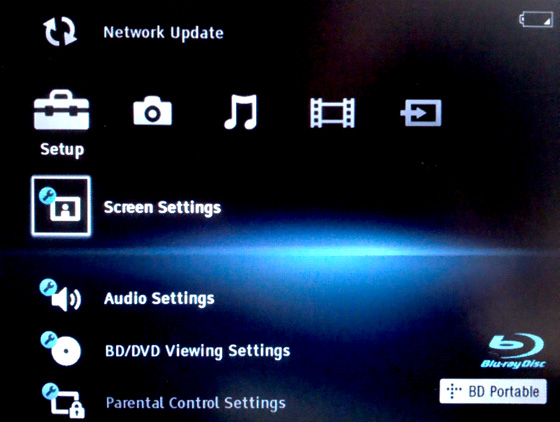 The on-screen menu uses the usual Sony 'XrossMediaBar' format
Menu navigation is through the now familiar Sony XMB 'tree' system. The player has touch sensitive buttons and a 'proper' remote control, rather than a slimmed down credit-card type as usually found with portables.
Other travel orientated features include twin headphone sockets and a car charger. The built-in battery lasts about five hours (more if using USB rather than discs), which is enough for all three Toy Story films back-to-back, but not a complete Lord of the Rings marathon.
The network connection is primarily there because of the BD Live system that pulls in extra features from the internet for certain discs. Despite being portable there's no Wi-Fi and it lacks the internet video and media streaming features of Sony's other home entertainment products.
The antireflective LCD screen is sharp and contrasty. There are a few tweaks for picture settings but it could do with more to get it just right, as the screen is rather 'warm' looking. Still, it's a good size for video on the go, even ultra-wide 2.35:1 aspect ratio movies like the Coen brothers' True Grit.
Blu-ray playback from the HDMI output in 1080p is a decent match for a full-sized machine. The DVD upscaling is fine on the player's own display but falls slightly short on anything bigger, with some ragged edges showing on a 22in TV, let alone my usual 50in screen.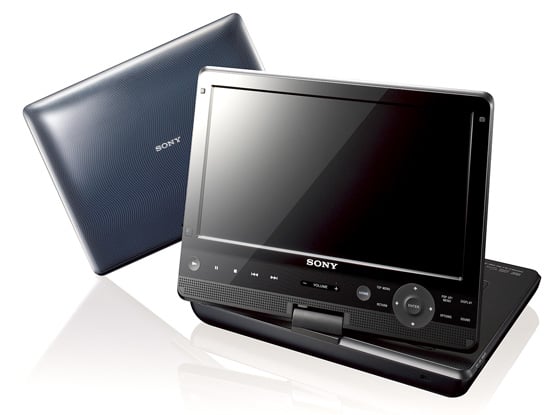 Portable, yet plays nice when hooked up to larger screens too
The built-in speakers go reasonably loud and maintain an acceptable quality, but you'll get a better experience from headphones, where the player's audio strength really shows with both movies and music (even the more 'lossy' formats). Likewise, if you hook it up to an AV receiver, Dolby and DTS-HD soundtracks sound superb.
Verdict
The BDP-SX1 won't be for everyone, especially if you already have a well spec'd laptop or tablet, which are equally – if not more – portable and ideal for multimedia. However, if enough of your library is on physical discs and includes Blu-ray titles, and you want to be able to take them on your travels, then th Sony BDP-SX1 is a dependable, good quality proposition, but it is pricey. ®
More AV Gear Reviews

PCTV
Broadway 2T
Crystal
Acoustics
MediaMatchBox
Ten…
Freeview HD
recorders
PCTV
NanoStick
T2
Elgato
Tivizen

Sony BDP-SX1 portable Blu-ray player
Portable Blu-ray Disc player with 10.1in screen, USB media connectivity and HDMI.