Team Philippines solar car in self-combustion drama
Bush not the only thing burning in Oz outback
---
WSC Day three of World Solar Challenge and the big news point was a solarcar catching fire at Tennant Creek, NT. The Register's eyewitness on the scene, Richard Flint, racing manager and driver of the Durham Uni team, reports:
Whilst we were setting up to charge the batteries with the array, we noticed some activity around another car. The batteries of Sikat II of Team Solar Phillipines caught fire and caused the surrounding area to be cleared, leaving us closest to the smouldering car. Once the fire brigade arrived, the batteries were removed safely from the car. No one was injured and the team is still hoping to continue on the event.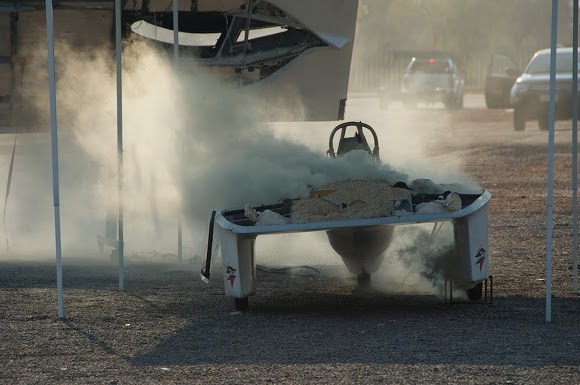 Principia posted a great close-up of the race-day drama.
Damage to the car was "not terminal", and Team Philippines hopes to race again tomorrow, race organisers said.
Durham Uni's Richard mailed us from Tennant Creek, the only place we could find on our first day for hundreds of kilometres that had mobile Wi-Fi reception. Or calls for that matter.
We will return to Durham Uni shortly. But let us first praise Tokai of Japan – the race leaders – who stretched their lead to 35 minutes, ahead of Nuon, the Dutch team, and 39 minutes ahead of University of Michigan.
Tokai are the first team to cross the South Australia border, which means that they have completed two-thirds of the 3,000km extreme endurance event.
A chasing pack of five teams is another 300km north, ending their day at Alice Springs. This battle is proving very competitive with Japan's Ashiya wresting fourth place from Aurora, one of three Australian entries.
Let's loop back to Durham Uni and their experiences of the race to date. Flint is writing a blog on the team's adventures which will be published shortly. Here are some edited highlights.
Sunday 16 October Starting 24th, ahead of Cambridge and MIT, DUSC negotiated the challenging route out of Darwin successfully.
Although heavier cloud cover than expected left us down on power, the car is showing good reliability.
The team is now analysing data collected from the car to work out the best strategy for the route ahead.
Monday 17 October Morning welcomed us with clear skies. The sun proved to be short lived and so we made the difficult decision to put the car into the trailer for a short period. Once the car was back on the road, we drove into the control stop at Dunmarra. We then contiued from Dunmarra, and ended the day about 10km north of Elliot.
Tuesday 18 October After a night of being disturbed occasionally by road trains thundering across a nearby cattle grid, we awoke to a hazy sky, the result of bush fires to the south.
After covering ground under solar power, we drove into the control stop at Tennant Creek expecting to be on our way again after the mandatory 30 minute stop. We discovered that the top teams had been held 100km south of Tennant Creek for just under four hours as bush fires burned. This closed the Stuart Highway, so all teams are being held for an additional 3 hours 52 minutes. We will not be able to progress until 9.12 tomorrow morning.
Despite the setback of remaining in Tennant Creek overnight, we have made the most of the opportunity to charge the batteries and make running improvements to the car.
A jovial atmosphere has remained and we are looking forward to making more progress tomorrow. We will also be able to see the effects of the bush fires that have affected the race.
And in other news ...
While all this drama was unfolding, El Reg's SPB team was thundering down the Stuart Highway en route to the opal mining town of Coober Pedy, well ahead of the solar race leaders.
We have no doubt our beloved readers are concerned for our welfare on this long and arduous journey across the parched heart of Oz, a hellish land where the only thing scarcer than water is a decent internet connection. Here are couple of snaps showing a typical view of the picturesque highway, and me posing under the famous Kulgera Roadhouse boot tree: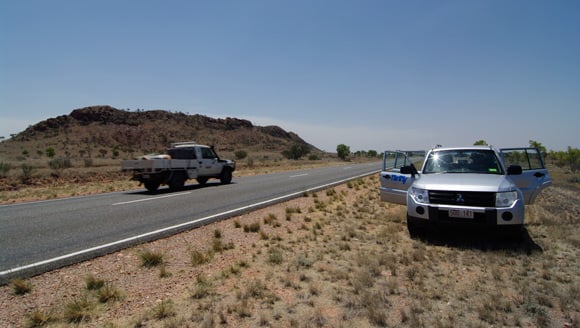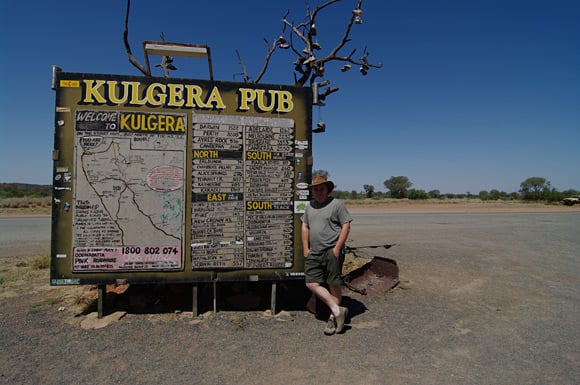 Coober Pedy, as we understand it, means "white man in a hole", or "white man sitting in his hole", and it certainly makes a change for these white fellas to temporarily trade their vehicle for a more spacious hole in the Radika Downunder Underground Motel: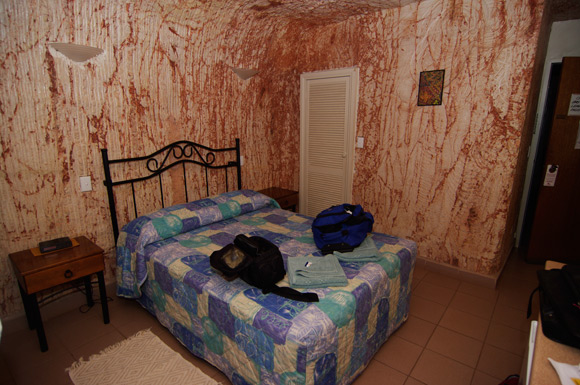 This temporary Special Projects Bureau base has certain luxuries not afforded to to other outback locations, the most significant being a mobile phone signal which finally enabled us to connect our Telstra Wi-Fi dongle thingy and get online without having to track down the closest satellite net connection.
So, after a few beers and a good night's subterranean kip, our plan for tomorrow is to let the solar boys scrap it out among themselves while we take make a short recce trip to Woomera, in search of both Britain's space heritage and a possible LOHAN spaceplane launch site.
We'll then wait for the lead cars at the checkpoint at Glendambo, some 254km south of Coober Pedy and rejoin the race towards a climactic finale in Adelaide on Thursday. ®
Bootnote
We are following the race at twitter.com/regspb.