Networking giant Cisco Systems has been under attack for the past several years, and the company gearing up its high-end, converged Nexus switches to defend its data-center turf from encroachment by HP, Dell, Arista Networks, Juniper Networks, Brocade Communications, and others.
Picking up the offensive pace and doing better defense is particularly important for Cisco now that the 10GE ramp is accelerating – 10GE ports will soon be standard on servers – and the 40GE ramp is starting. Any transition in networking technology in the data center is always a chance to unseat the incumbent, which is often Cisco.
This time around, Cisco is focusing on the Nexus line of switches, which run the company's NX-OS operating system and which support server and storage traffic over a single backbone. Shashi Kiran, director of marketing for Data Center Solutions at Cisco, tells El Reg that the company has been able to command the lion's share of switching revenue thus far during the 10GE cycle. It is still early, however, and Cisco can't make any assumptions. Hence the bolstering of the Nexus lineup.
Gartner reckons that Cisco's 10GE switching business grew by 255 per cent last year and gave Cisco a commanding 73.8 per cent share of worldwide revenues. HP garnered 17.6 per cent thanks to its acquisition of 3Com, and IBM got 2.4 per cent thanks to its acquisition of Blade Network Technologies. Juniper only pulled in 1.4 per cent of revenues and Brocade only 1.3 per cent, leaving all the other players chasing the remaining 3.4 per cent slice of the pie.
Kiran says that as 2010 was coming to a close, the company had 15,000 customers using its Nexus switches (that number includes the Multilayer Director Switch core switches that run NX-OS as well as the top-of-rack Nexus 2000, 3000, and 5000 switches and the end-of-row, modular Nexus7000 switches). By the end of 2011, Cisco hopes to have added another 4,000 to 5,000 more customers for its Nexus products.
The 64-port Nexus 3064 ultra-low latency 10GE switch that was announced back in March for speed freaks (like the kind that run hedge fund and risk analysis applications) is getting some company. The Nexus 3048 is a 48-porter that runs at Gigabit Ethernet speeds, while the Nexus 3016 is a 16-porter that will support either 10GE or 40GE speeds.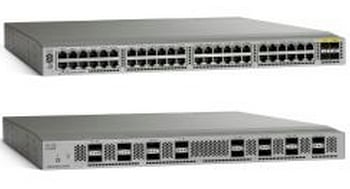 The Nexus 3048 and 3016 switches
The Nexus 3048 is a Layer 2/3 switch with 176Gb/sec of switching capacity and a message forwarding rate of 132 million packets per second, enabled in part by its 9MB shared buffer. In addition to the 48 Gigabit ports, it also has four 10GE uplinks. The Nexus 3048 is shipping now and costs $14,000 for an entry configuration.
The Nexus 3016 is also a Layer 2/3 switch, sports 1.2Tb/sec of switching capacity, and can handle 950 million packets per second; hence, it has enough capacity to drive 16 ports running at 40GE speeds. Customers can use the ports running at that 40GE speed, or use special cables that break them down into four 10GE ports, which gets you to a total of 64 ports running at 10GE – exactly what the Nexus 3064 does. If you like this dense and fast 40GE switch, it will cost you: $65,800 in a base configuration.
The Nexus 5000s were updated back in March and were largely left alone this time around. But as promised a year ago, the Nexus 5500s now support an NX-OS tweak that enables these top-of-rackers to support FabricPath network-flattening and traffic optimization software that debuted in June 2010 on the high-end Nexus 7000 switches. Kiran says that Cisco has more than 500 customers using FabricPath on the Nexus 7000s.
Similar topics