This article is more than 1 year old
Google planning major upgrades to Google+ 'within days'
Sergey slams Ballmer for Google Apps claims
Web 2.0 Summit Google is planning to unveil a series of major upgrades to its social networking service starting in the next few days, including the ability to use Google Apps accounts to access Google+ and set up brand pages for companies and the use aliases instead of real names.
In a roundtable at the Web 2.0 Summit in San Francisco co-founder Sergey Brin and Vic Gundotra, Google's senior vice president of social business, explained that the first month of open access to Google+ has seen 40 million users sign up, and 3.4 billion photos uploaded. Gundotra said that the demand exceeded Google's most optimistic projections, and this has meant some features are running late in the face of user demand.
"By Christmas you will see the Google+ strategy coming together," Gundotra said. "The reality was that we had to prioritize doing some work and we didn't anticipate such fast growth."
The first change users will see will be the ability to link Google App accounts to the social networking service, a change Gundotra said would come in a matter of days. In the coming weeks the company will also allow companies to set up brand pages, similar to those used on Facebook. He also promised that it will be possible to sign on the service using an anonymous name, but the final details on that move were still being sorted out.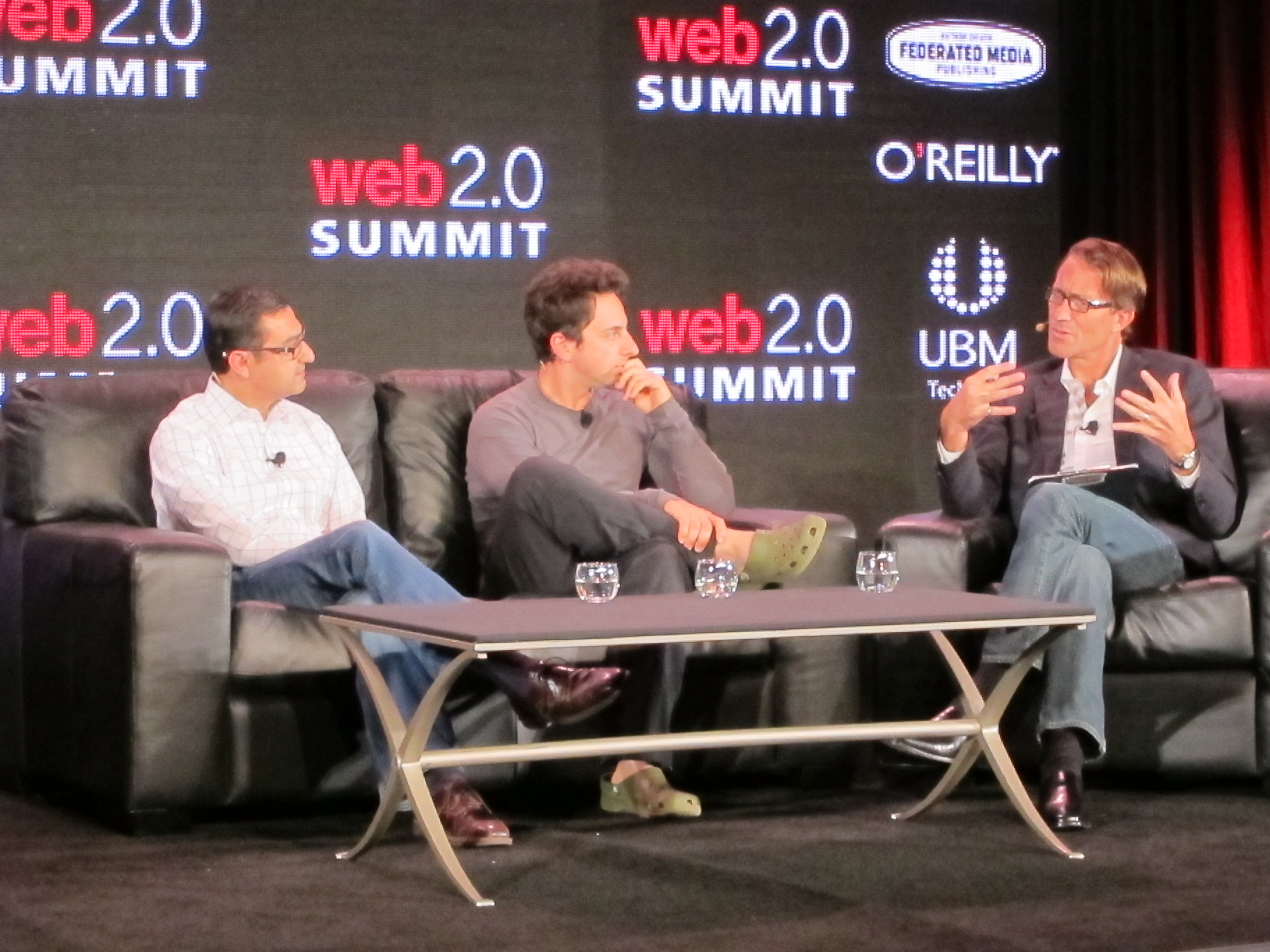 Vic Gundotra and Sergey Brin, left and center, at the Web 2.0 Summit, next to Federated Media CEO John Battelle
In a wide-ranging discussion both Brin and Gundotra said that the release of an internal memo from a staffer savaging Google+ was "a very bad day," but went on to say it was an example of the kind of internal debate that Google encourages and that the person involved wouldn't be fired. (Brin said he hadn't read the entire memo because it was too long winded, but he could possibly use it as a sleep aid.)
He was less laid back over Steve Ballmer's comments on Wednesday that Google Apps was being beaten in the enterprise space by Microsoft's products. Over four million people are now using Google Apps he said, with 5,000 new people signing up every week.
"Based on my experience of going around to Silicon Valley startups is that they pretty much all use our apps," he said. "I was surprised to hear something that aggressive from Microsoft."
Since Larry Page has taken over the helm, Brin said he was getting a lot more time to do basic engineering, something that he had missed. The Hangouts feature of Google+ was his personal input to the software, and he was also working on Google's automated car program. The company was also cutting down on some of the areas it was working on and concentrating on integration of existing products within the Google brand.
"At Google there's always been a culture of letting a thousand flowers bloom," he explained. "Once they do, then you have to put them together in a bouquet."