Would you go to Facebook for mobile tech support?
Telco offered integration with Zuckerberg's Reservation
---
Nokia Siemens Networks is punting Facebook integration to mobile phone operators that reckon their customers would prefer using a social network over calling tech support.
The software provides the same kind of support and information available on most operator's sites, simply integrated with Facebook. This is on the grounds that it is Facebook where customers spend their time, not to mention that the integration offers operators a chance to market their products through the social media site.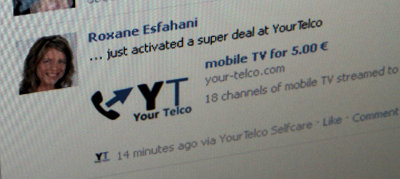 Is that better or worse than being asked to share another supportive meme?
Nokia Siemens already provides web-based services for lots of operators, as well as smartphone apps, but Facebook apps are more usually limited to trivial games designed to hook in big spenders. Putting this kind of functionality into Facebook endorses Zuckerberg's playground as a platform for proper applications, the only destination the 21st century web surfer needs.
We still have to wait and see which, if any, operators decide to deploy socially-aware applications, but this move could see Facebook becoming more than a place to virtually support causes, embarrass friends and accumulate pokes. ®