Philips Fidelio DS9
Dock de luxe?
---
Review Philips' audio engineers must be feeling rather pleased with themselves these days.
Their Fidelio series of iDevice-friendly speakers - now augmented with Android-oriented models - deliver the kind of sound quality you get from top-of-the-line rivals like B&W and Bose, are very stylishly kitted out and reasonably priced too.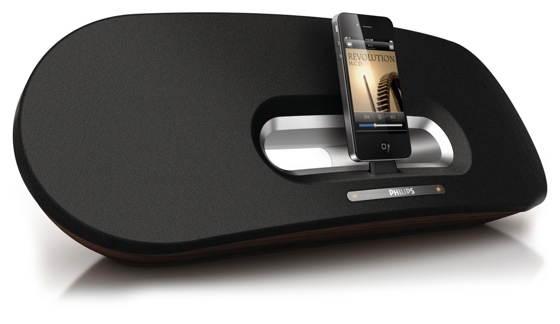 The DS9 will hold an iPad, but it's happier with something smaller
They are, in short, the business, and, a few minor niggles aside, the DS9 maintains the Fidelio tradition admirably.
Philips has given the DS9 a convex design - previous models have curved inwards at the front - but the line's signature styling is present and correct. There's the customary cut-out area that runs right through the lozenge-shaped unit - and makes for a useful carry handle.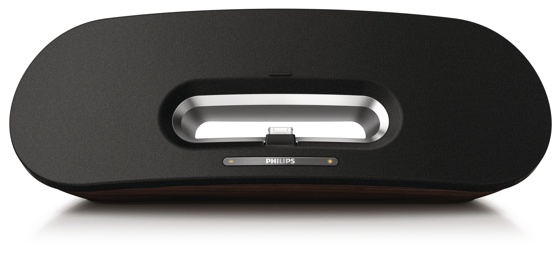 The dock connector is spring-loaded for easy device attachment and removal
The dock connector is mounted on a pivot to make it easier to dock and disconnect your iPod, iPhone or iPad. It's also spring-loaded to hold the iDevice back against the body of the speaker - there's a rubber pad to prevent the fabric that covers the front of the DS9 from being chafed.
As I say, the DS9 will happily take an iPad, but Philips still hasn't built in the supports needed to stop the tablet rocking sideways as you use it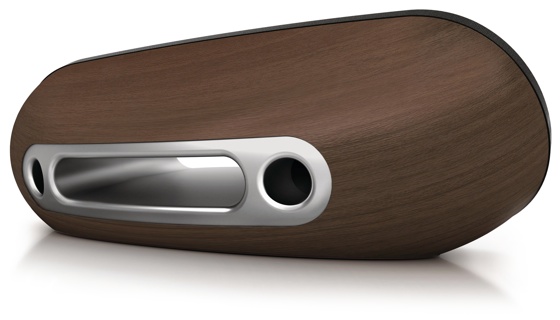 The mock wood veneer makes for a classy look
The back is covered in a dark wood-look veneer; the rear bass ports - vents for a three-litre sound chamber - and the cut-out bordered in silver plastic. Together the dark brown back and the black front make the DS9 look more up-market than it actually is.
Below the dock sit the DS9's single control: an elongated volume rocker switch. There's not much in the way of ports, either. Beyond the dock there's a 3.5mm analogue jack for hooking up other sound sources, and that's it.