This article is more than 1 year old
The Guardian iPad Edition
First UK paper to hit iOS 5's Newsstand
iOS App of the Week As well as launching a brand new app specifically designed for the iPad, The Guardian is also the first proper UK newspaper to appear in iOS 5's Newsstand feature. The Guardian iPad Edition gives us interesting look at how the newspaper industry could develop in the next few years.
Newsstand is the magazine and newspaper equivalent of Apple's iBooks shop, allowing you to download periodical apps and keep them in one place. Yes, you can do that with a regular iOS folder, but Apple wants magazine publisher to see it's treating their offerings as something more than mere apps.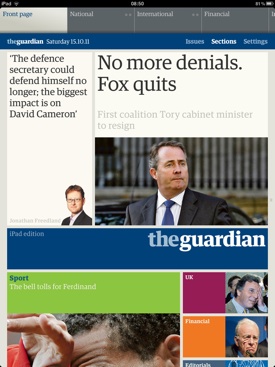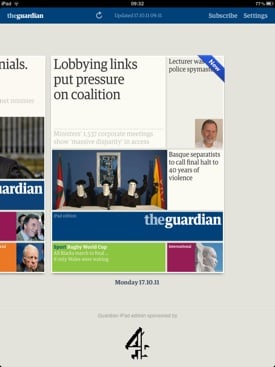 View the paper's front page (left) after downloading the issue (right)
While subscriptions are handled by the apps themselves, through in-app purchases, Newsstand does at least go beyond the functionality offered by a folder to automatically download new issues for you.
The Guardian app is currently offering a free subscription until 13 January 2012. After that it will cost £9.99 per month, which works out at about 50p per issue – less than half the cost of the print edition.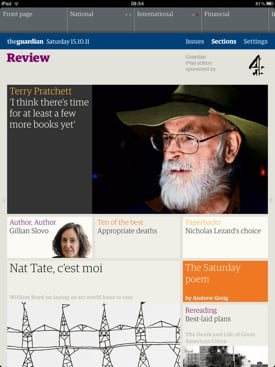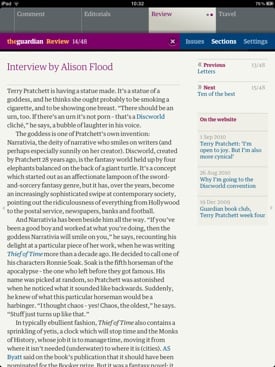 Swipe through the paper's sections (left) then tap on a story to read it (right)
The app itself is attractive to look at and certainly more interesting than attempts to recreate a newspaper page on screen, though it rather resembles Windows Phone 7's Metro UI, ironically enough.
It starts with a "front page" that simply presents headlines and pictures for the top stories of the day, and you simply tap on a headline or picture in order to read that story.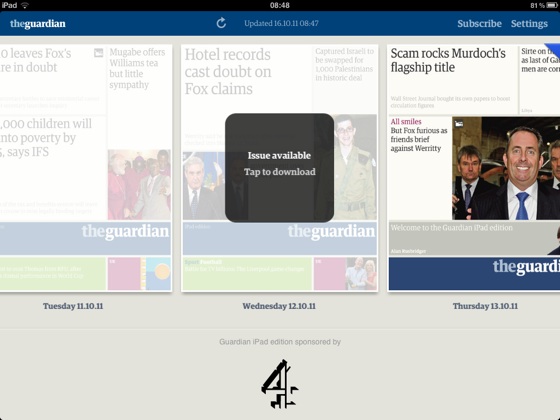 Currently, all issues are free, including back numbers from day one of the iPad version
You can flick down the screen to view more headlines, or flick across the screen to 'open' the paper and step through individual sections, some multi-page, such as national and international, news, sport and reviews.
A Sections strip at the top of the page lets you jump straight to the parts of the paper you're most interested in - and is handy for avoiding the Channel 4 ads between sections. Channel 4 is subsidising the app's free-issue period.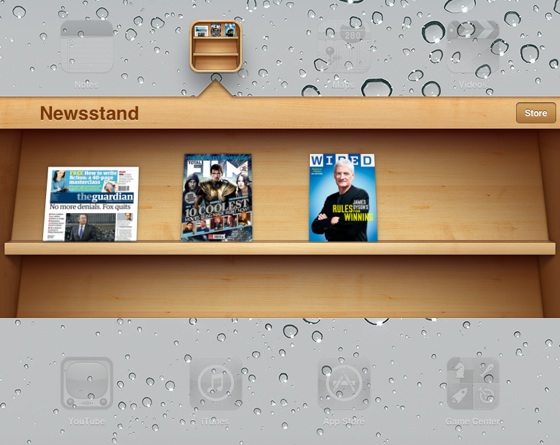 Is iOS 5's Newsstand feature really anything more than a folder?
Unfortunately, it's not always obvious where to find some stories. Unlike the iPhone app – which is still available – the iPad app doesn't include a separate technology section, so I found myself randomly flicking through different sections to track down tech stories that I was able to find instantly on the iPhone edition.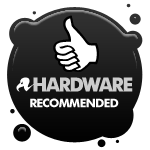 The iPad app really needs a search function that would allow you to locate stories more quickly, as well as searching through back issues too. What's the point of having a newspaper on a computer if you can't use the computer's database and search capabilities to the full?
Still, it's undoubtedly a fresh take on newspaper design and is to be commended for trying not to emulate the paper product. ®
We make our selection of the best iOS smartphone and tablet downloads every Thursday. It you think there's an app we should be considering, please let us know.
More iOS App of the Week Winners

iMoney
Accounting
LoveFilm
Player
Meter
Readings
Flipboard
Bike
Hub

The Guardian iPad Edition
An attractively designed digital newspaper that doesn't merely emulate the paper edition.
Price:
Free app, £9.99 for a month's issues from 13 Jan 2012 RRP