Jobs was 'working on future product day before he died'
Life of Apple baron celebrated by staff in ceremony
Steve Jobs, whose life was celebrated by employees at Apple's Cupertino campus yesterday, was said to be working on the company's next product the day before he died.
Jobs lost his lengthy battle with pancreatic cancer on 5 October, and the iPhone maker held a memorial service in his honour on Wednesday.
Apple stores around the world closed for a few hours during the ceremony, which was attended by – among others – Apple CEO Tim Cook, the vendor's design guru Jonathan Ive and board member Al Gore.
Coldplay and Norah Jones performed songs at the outdoor event.
According to PCMag, Jobs was working on Apple's next product on 4 October – the day before he died.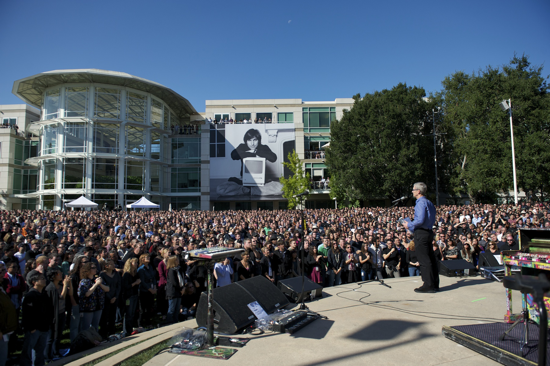 Image courtesy of Apple Inc
The company's partner Masayoshi Son, who is the CEO of Softbank, said Jobs interrupted a meeting he was having with Cook. Son said Jobs had called to talk about a new Apple product.
"I visited Apple for the announcement of the iPhone 4S [at Apple headquarters in Cupertino, California]," he recounted to PCMag.
"When I was having a meeting with Tim Cook, he said, 'Oh Masa, sorry I have to quit our meeting.' I said, 'Where are you going?' He said, 'My boss is calling me.'
"That was the day of the announcement of the iPhone 4S. He said that Steve is calling me because he wants to talk about their next product. And the next day, he died." ®