This article is more than 1 year old
BOFH: Hordes unleashed... by a RAM upgrade
Fault #45113: Company Corrie email list is down

Episode 16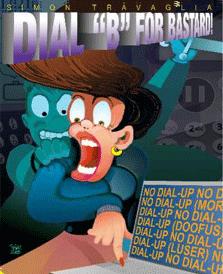 It's the same old story – you make some tiny change and before you know it they're oozing out of the woodwork.
You know who I'm talking about – the idiots.
They notice that your signature uses Garamond instead of Times Roman and before you know it they're on the phone wanting to know if there's a new corporate stationary template out there. Then they start wondering if the change to the font is affecting how quickly Word loads – because that uses fonts too, and it's been slow recently.
And actually, come to think of it they've noticed that there's a warning message when they start Scrabble – and maybe the problem's affecting letters as well as words.
Maybe it's a virus!!!
Maybe they should shut their machine down?!
Maybe they should shut everyone's machine down – to stop the virus spreading?!!
...
It's my own fault really – I should never have suggested memory upgrades. Actually it was the PFY's fault for pointing out that the desktops we were dumping had the same memory as half the desktops we were keeping and so if there were free slots on the keepers we may as well use them.
Once Pandora's Box is open though – and it IS open – the nightmare begins.
"I'm trying to send you email and it's saying that the address is unknown."
"You've got the wrong email address," the PFY reports, once he's ascertained it's an in-company address.
"No, it was working yesterday – before the upgrade," the user whines.
"Uh, we didn't upgrade your machine," the PFY says. "We only did the HR and Beancounters' machines."
"Yes, but I'm sending an email to HR!"
"Oh right, you're suggesting that a memory upgrade on their machine makes them disappear from Active Directory."
"Yes."
"Well, there's a slight chance," the PFY says, "and by a slight chance I mean about the same slight chance as there is of you being hit in the head by a moon rock after being run down by a dwarf on a tandem while crossing the street."
"So you don't think it's possible?"
"No. I think it's more probable that you're using the wrong address. Unless...."
"Unless?"
"I was just checking to make sure we hadn't applied the Service Pack that deletes users who change their hardware config."
"And had you?"
"No. Because there isn't one – I was making that up. Although it probably wouldn't be too hard to write."
"So what do I do?"
"Find out the right email address and use that."
"But I've used the address tons of times!"
"Did it appear in the list of suggested email addresses when you were typing it in?"
"I... yes."
"Did it really, or can't you remember?"
"It did."
"You realise we have mail logs and I can look at them and see what you emailed?"
"I'm pretty sure it did."
"So should I look at the email logs?" the PFY asks
"I... Yes!"
"So if I filter out the meaningless cruft of your email output I get... nothing. Hmm. Okay..."
"So if I just unfilter messages with Coronation Street as the subject I get about 50 messages to your user – plus one message this morning to the same username at a .com domain, not a .co.uk domain..."
"I..."
"Got the email address wrong – yes. It's ok, you're sorted now."
Approximately 1 minute later ...
>Ring<
"You've still got the wrong email address," the PFY says, before our user can speak, "because Outlook's added that incorrect email address to the list of addresses that it's going to suggest for you."
"I..."
Approximately 10 minutes later...
"I think there's something else wrong."
"Really, what is it?"
"When I ring the same person's extension the phone rings twice then goes to voicemail."
"They're on the phone."
"No – because if they're on the phone it just goes straight to voicemail, it doesn't ring twice first."
"So did you leave a message?"
"Yes."
"And they got the message? So really, with the exception of it ringing a couple of times first, it's actually working perfectly well?"
"Yes – but it's ringing twice."
"And this is caused by the RAM upgrade?" the PFY asks, not wanting to get involved in a half-hour discussion on the foibles of call forwarding, hunt groups, voicemail delays, etc.
"Well their phone is connected to their computer..."
"Yes, I see how that could be an issue," the PFY says, noting the increasing number of incoming calls popping up on the Mission Control hotline. "So you didn't happen to mention this problem to anyone did you?"
"Just a couple people on the company Corrie mailing list."
And this is where the PFY and I take diverging paths. For my part my mind is screaming, "The company has a f*cking Corrie street mailing list?!" whereas the PFY is speed dialling the tandem-riding dwarf with a lucrative job opportunity whilst reaching for the souvenir lunar debris...
"Have you tried ringing him from an external number. Like the pub across the road?"