Chinese giant halts rare earth shipments to hike prices
This is the stuff mobiles, lasers, magnets, cars are made of
China's largest rare-earth producer, the state-owned Baotou Iron and Steel Group, is stopping rare earth shipments for a month in an attempt to drive up prices.
There are 17 rare earth elements which - despite their label - are actually quite common in the Earth's crust until you want to extract them: you'll find they're so widely distributed in the ground that you'll have to mine rare earth minerals (which have rare earth elements as major metal constituents) and minerals with a worthwhile level of element concentration are quite rare.
Rare earths are used in many high-tech components, such as disk drive magnets, lenses and lasers. Lower prices for Chinese-mined rare earths caused China to gradually become the world's most largest rare earth provider, controlling 95 to 97 per cent of world production, and the other mines in Australia, Canada, California and Russia closed down.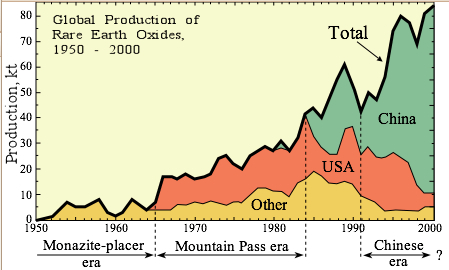 China's role in rare earth supply.
In recent years China has deliberately increased rare earth prices. This has affected, for example, disk drive prices, although, very recently, rare earth prices have declined. This price drop is the reason for the mining group's attempt to boost its value.
Here's Seagate CEO Steve Luczo talking about the price drop in an earnings call (PDF): "Recently, the price of rare earth metals has stabilised and in some cases experienced declines."
The WSJ reports that "Chinese prices of neodymium oxide have fallen 35 per cent since June; praseodymium oxide has shed 17 per cent and lanthanum oxide 21 per cent" in the months since the Japanese tsunami cut demand.
The Chinese have reacted to that by restricting supply to drive up prices again.
The Inner Mongolia Baotou Steel Rare-Earth (Group) – a listed subsidiary of the Baotou Iron and Steel Group – is China's largest rare earth producer, controlling 60 per cent of its supply, and it has stopped shipping the ores to Europe, Japan and the USA for one month from 19 October. DailyTech reports it also plans to buy rare earth metals to raise demand that way and further increase prices.
The assumption is that China wants to increase production of goods that use rare earth metals, such as magnets. More money is made using rare earths in finished goods than in mining the stuff.
Now that rare earths are pricier, mining is restarting outside China but it is said it will take years to make it fully operational. Until then the Chinese can behave like any rational monopoly capitalist would and stick it to its customers with raised prices. ®