NASA says it has put to rest any lingering doubts about the identity of the first recorded supernova, described in the Chinese historical work Book of the Later Han as having taken place in 185 A.D.
As strongly suspected by observations made by NASA's Chandra X-ray Observatory and the European Space Agency's XMM-Newton Observatory in 2006, the "guest star" sighted by Chinese astronomers 1,826 years ago is, indeed, the rather prosaically named RCW 86.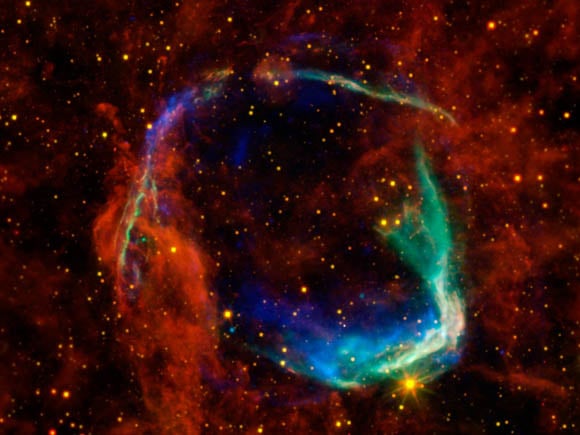 Data from all four space telescopes were combined to produce this image of RCW 86 (click to enlarge)
One scientist studying the supernova remnants in 2006, Jacco Vink of the University of Utrecht, said at that time: "I think it is very interesting that we can now say with some confidence, but not absolute certainty, that RCW 86 is the remnant of A.D. 185."
NASA now says that all doubt has been removed. New observations made by NASA's Spitzer Space Telescope and Wide-field Infrared Survey Explorer, better know as WISE, have not only confirmed the earlier suspicions, but have determined that RCW 86 is a Type Ia supernova.
Type Ia supernovas – supernovae? – are the death throes of white-dwarf stars that have sucked enough matter from their surroundings to increase their mass to such a degree that they go thermonuclear and violently explode.
"A white dwarf is like a smoking cinder from a burnt-out fire," said astronomer Brian Williams, the lead author of the new RCW 86 study. "If you pour gasoline on it, it will explode."
Which is exactly what RCW 86 did with sufficient brilliance to be noted by unnamed Chinese observers back in 185 A.D. The actual explosion, of course, took place quite a bit longer ago than that: RCW 86 is between 8,200 and 9,100 light years away.
What caused the lingering doubt after the 2006 observations was that the remnants of the dwarf that caused RCW 86 are spread over a significantly larger area than they should be for such a recently observed explosion.
"This supernova remnant got really big, really fast," said Williams. "It's two to three times bigger than we would expect for a supernova that was witnessed exploding nearly 2,000 years ago."
But with the discovery that RCW 86 is a Type Ia supernova, that fast growth rate has a simple explanation: the white dwarf sucked enough dust and gas out of the way – the same dust and gas that eventually caused it go thermonuclear – that when it exploded, its guts flew into unimpeded space. ®
An earlier version of this article misstated the distance of RCW 86.
Sponsored: How to simplify data protection on Amazon Web Services