Can the iPad save newspapers?
Questions to which you already know the answer. Part 94.
---
Some obituaries of the late Steve Jobs praised the Apple founder as saviour of the newspaper industry. That's hard to justify. While one of Jobs' achievement was undoubtedly exploding the idea that people won't pay for digital stuff, a newspaper business "saved" by the iPad won't look anything like the old newspaper business. It will have to be much, much smaller.
The Guardian launched its own iPad edition, for £9.99 a month, a pound more than the Daily Telegraph, on 12 October. Neither offers unique iPad-only content, it's simply a cached, offline version of what you can get for free on the website. So the value proposition is clear: a tenner for offline content. (Plus the sense of Childlike Wonder™ you get from reading a native fondleslab version of your paper.)
Contrast this to music, where Spotify and dozens of me-too services add offline, cached access for an extra fiver a month. The Guardian claims to have had 145,000 downloads in a week (85,000 in the UK), which adds £12m... Given the size of the business the revenue needs to support, the iPad is really a vanity exercise.
Both are members of the Church of the Freetard (pastor Jeff Jarvis). But what if they were to cut off the supply of free? The Times and Sunday Times did just that a year ago, and it's been far more successful than almost all "media experts" predicted. Digital subscriptions have risen faster than sales of the paper Times have fallen. News International now has 111,036 subscribers, who get both the Times and Sunday Times for £2 a week. At least in that package, you get something you wouldn't otherwise get.
Somewhere in between the two is The New York Times. The paper put up a very porous paywall, and saw subscriptions grow from 281,000 to 324,000 in the last quarter. But the Times uses digital as a kind of bonus to drive paper subscriptions. From that perspective, it looks like an easy win. Continuing to give stuff away on the web was simply leaving money on the table (or in readers' pockets).
But it's tough out there, and these are expensive products to produce – print or no print. News International said it was shedding 50 to 100 full-time jobs last week, around 15 per cent of the full-time workforce.
"Newspapers have an existential problem – there's no question about that," says Benedict Evans, who casts a sceptical eye on the newspaper industry for Enders Analysis.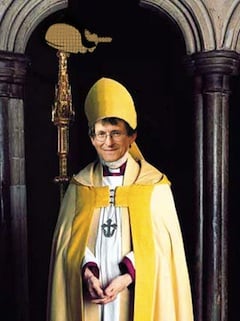 Sunday Mass at the Church of the Freetard
"You can't fund 1,000 people with £10-per-month subscriptions. The industry is going to be radically smaller in 10 years. The achievable pricing is too low."
He doesn't see the iPad app as a game-changer. "The Guardian has a strong visual culture, and this has been properly designed, unlike products from other news organsiations that didn't value design. But it's pretty and doesn't work very well.
"The Guardian is still spending money like water. What does it look like with 150 people?"
Evans also points out how immature the market is – the fondleslab is still only 18 months old. As a user of all of them, that's really striking once you start using these iPad products. Take the Sunday Times for example – almost 700MB of "really quite smart". But there's no push. Ideally they should all be ready when you wake up in the morning. Apple's new newsstand folder does push notifications, but there's a long way to go. And crashes on all the native apps are frequent.
When it all works, it's lovely. And, if you're a regular newspaper buyer, a fairly decent bargain. But it's striking how when the one thing that people will demonstrably pay for is convenience, the experience is so bumpy and... well, inconvenient. ®