The worst kept secret in mobiles is out. Nokia will launch its first three Windows Phones this week, and since everyone in the industry has already seen them, except the media, it was inevitable details would trickle out before the announcement on Wednesday. When you lose control of your platform, you lose control of your leaks.
The new Nokia phones are Mango devices, so, not surprisingly, they aren't high-end. Microsoft's "chassis spec" that Original Device Manufacturers (ODMs) must obey is rigid and certainly not cutting edge. Nor is the flagship Sea Ray design going to surprise anyone, as it's based on the N9 "contractual obligation phone" that trickled out this summer.
But I don't think Team Elop will mind too much.
There was widespread scepticism in February that Nokia would be able to get anything based on Windows out at all in 2011. The Nokia product development cycle is 18 months, yet these should reach market in almost half that. It's a start.
In brief, the Nokia 800 (or "Lumia" - depending on which rumour site you prefer) is the Sea Ray.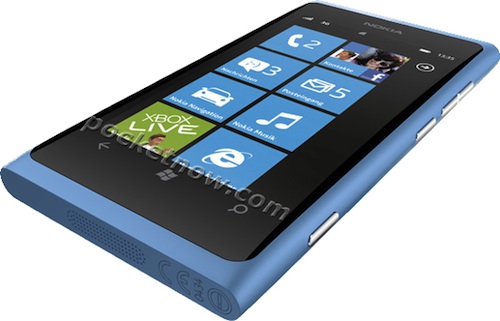 Nokia 800: Source: PocketNow
It has a Qualcomm chip instead of a Texas Instruments chip. And it has buttons.
The model codenamed Sabre has also been leaked, and a third model, Ace, features a side-down keyboard just like the Blackberry Torch.
All models are based on chassis spec 1.5, and you'll know what to expect from the HTC Radar sister site Reg Hardware reviewed today.
An obscure one-man blog purports to have the full specifications of the trio, and there're no more surprises here: 1.4Ghz Qualcomm CPUs, 8GB or 16GB storage, and no LTE.
According to leaked roadmaps, chassis spec 2 supports LTE, but only until the 2012 "Apollo" update will features including dual-core chip support, Tegra support or 1280x720 resolution screens come to Windows.
Expect lots of ho hums from the tech-oriented press, then. And renewed speculation over why Nokia jumped to this outsourced, royalty-bearing platform, and abandoned its own in-house, royalty-free platform Meego.
But one important part of the phone industry is rooting for Nokia: the operators. They're loath to see the market fall into a two-horse race between Apple and Android, and will do everything to help open up the field.
They don't mind in the slightest that these are mid-range devices, since that's where a profitable portion of the market is: on £25 monthly contracts. According to Steve Ballmer, Android is for phone nerds, but "you don't have to be a computer scientist to use Windows Phone 7".
He might be over-emphasising the difference in user experience, but Android's store looks a mess, and platform fragmentation is ugly. With so few users, Windows Phone hasn't had the chance to fragment or sprawl just yet. ®
Similar topics