This article is more than 1 year old
Apple gets patent for 'unlock gesture'
Jobs slides back the granite slab for one more whack at Android
A US Patent granted today (October 25) will send Google and Android phone makers around the world reaching for their lawyers.
Patent 8,046,721 is quite dull, but all-embracing in that special way that patents have become in America: "A device with a touch-sensitive display may be unlocked via gestures performed on the touch-sensitive display. The device is unlocked if contact with the display corresponds to a predefined gesture for unlocking the device. The device displays one or more unlock images with respect to which the predefined gesture is to be performed in order to unlock the device. The performance of the predefined gesture with respect to the unlock image may include moving the unlock image to a predefined location and/or moving the unlock image along a predefined path. The device may also display visual cues of the predefined gesture on the touch screen to remind a user of the gesture."
Read it again if you need to, but to The Register's admittedly non-lawyer eyes, it looks like this. If you:
• Unlock a device using a gesture on a touch-sensitive display;
• Display an icon telling punters they have to unlock the device;
• Design the icon to tell users which direction they have to swipe the icon to unlock the device; or
• Provide visual cues for users too dumb to remember the unlock gesture;
…then you'd be breaching the patent.
While The Register can't speak for every single Android phone or tablet in the world – not to mention other flavours of device – the one's we can immediately call to mind use unlock gestures pretty much like the ones described in this patent.
Here, for readers' enjoyment, is one of the illustrations accompanying the patent.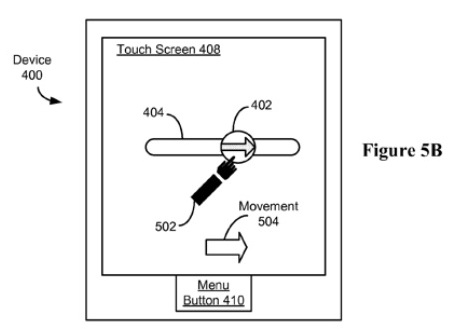 Let the fun begin… ®