Google exec: 'Corporations ignore human rights'
Not his own, of course
---
Google's director of public policy doesn't think that companies are doing enough to promote human rights around the globe, and that cozying up to repressive governments is bad business.
"You've got to be ready to lose some money in order to protect human rights," Bob Boorstin said to applause from the assembled activists and industry members at the Silicon Valley Human Rights Conference in San Francisco on Tuesday.
"I don't want to be the first of a parade of company officials to come up here and demand 'Give us a break'," he told a crowd tired of corporate chumminess with unsavory governments. "Number one, that would be stupid because you wouldn't believe me, and number two it wouldn't be right."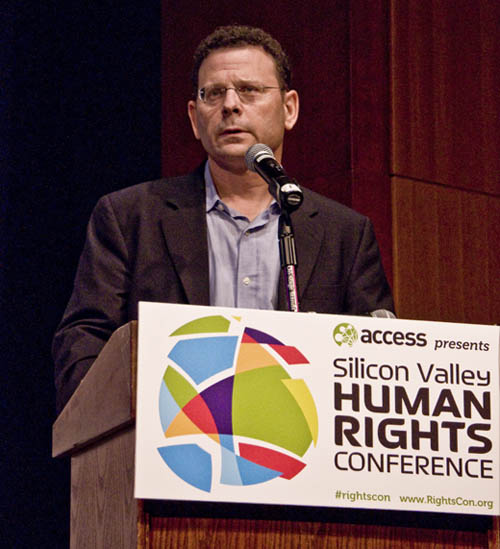 Google's acerbic director of public policy, Bob Boorstin
But Boorstin said that corporate malfeasance pales in comparison to government repression. "No matter how badly behaved some of us companies have been, we're really here in this room because of the actions of the governments."
Boorstin objects to a broad range of governmental behavior. "It's not just repressive regimes," he said, "but so-called democratic ones too," citing reports that there are 40 countries around the world that are activily blocking the free flow of information.
Although some companies are, he said, working to promote human rights, most are not. "I'm not going to name names," he said, "that would be too much fun." He cited an earlier speaker's use of the Tom Lehrer song about Nazi-V2-designer-turned-American rocket scientist Werner von Braun, which includes the line: "'Once the rockets are up, who cares where they come down? That's not my department,' says Werner von Braun," saying that sort of thinking is common among corporate directors.
"The line from some companies is pretty clear," he said. "They say 'We're just building this stuff, we don't care who uses it for what.' And I don't know about you, but everytime I hear that, I think of all those wonderful French weapons manufacturers on their way to Tehran."
Although Boorstin didn't name names, The Reg can think of two: Cisco, working with the Chinese government to set up a surveillance network in Chongqing, and HP, working on the same project. When asked about his company's participation, HP's China man Todd Bradley answered: "It's not my job to really understand what they're going to use if for."
'Put your users first'
Boorstin has a couple of suggestions for companies, such as "Put your users first" – a suggestion he quickly followed by admitting: "Google does not have a spotless record here, as we all know. Buzz, anyone?" (He also could have mentioned Google's requirement – along with Facebook – that YouTube posters use their real names – a danger for dissenters in many countries.)
According to Boorstin, too many companies simply pay lip service to human-rights policies. "Personally, I'm sick and tired of the idea of 'corporate social responsibility'," he said. "Just because a company publishes a report every year that's glossy and cute doesn't mean they're doing anything."
He also suggested that companies come together to create industry-wide best practices so that one company doesn't gain leverage over another. "And do it before someone who really doesn't know what's going on, or is seeking publicity – or, shock, both – comes along with a really stupid solution to the problem."
As a poster child for a really stupid solution, Boorstin suggested the controversial copyright-protecting and regulation-stiffening "Protect IP Act", which is currently being shopped around inside the Beltway. "If any of you want to lobby about something in Washington right now," he told the assembled activists, "I'd take a very close look at this act, because it poses a fundamental threat to free expression."
Boorstin provided a few reasons why companies should support human rights – and not simply because it's the "right thing to do" or that a lying, conniving company will eventually be found out, named, and shamed.
"Why should we do all these things? Because doing them will save money," he said. "I ask you to look at the the work that GE has done on its Ecomagination campaign, which a lot of pepole saw as an environmental campaign, but was in fact a way for the company to move into new and profitable areas."
Finally, Boorstin wrapped up his rap by arguing that it's simply good business to build up your customer base. To do so, your customers have to believe that you're on their side. "Trust is the killer app," he said.
Many arguments can be made, of course, that Boorstin was simply attempting to burnish Google's image in a hall full of folks who frequently accuse corporations of choosing profits over people – and many arguments can also be made that those activists are frequently correct.
But in the spirt of rapprochement – temporarily, at least – we'll meet Boorstin halfway with a quote from that 1980s businessman's friend, Ronald Reagan: "Trust – but verify." ®
Bootnote
Boorstin also believes that new technologies get too much credit for driving political and social change. "A lot of the talk about the wondrous things that are happening in the world has been hype," he said. "How about the hype about technology as the critical factor that's allowed political change to take place? I don't buy it.
"The internet is, yes, a political, powerful tool. But what happens online does not magically transfer itself into the offline, real world. Take a look at Libya. When I was looking at Libya I saw a lot more AK-47s being used than I did smartphones."