This article is more than 1 year old
IBM names Ginni Rometty prez and CEO
Palmisano to step down, remain chairman
The suspense over who is going to run Big Blue after Sam Palmisano retires has ended.
In fact, even before he retires, Ginni Rometty – a systems engineer who has worked her way up through the ranks since joining IBM three decades ago – has been named president and CEO, effective January 1, 2012.
Rometty, 54, currently runs IBM's worldwide sales and marketing group. She was one of a handful of potential candidates to take over the president and CEO role as Palmisano started moving toward the door in the Armonk, New York former apple orchard where Big Blue is headquartered.
Steve Mills, who has run Software Group and now runs Systems and Technology Group, too, since these two groups were converged back in July 2010, was another choice. But he is 58, and therefore close to retirement himself. Mike Daniels, who now runs the converged Global Services behemoth (Rometty used to run a third of it before taking over sales and marketing), was also a contender, but he is 56.
It looks like IBM decided to leave Mills and Daniels running their groups and put the chief sales person in charge of running the day-to-day operations of the company.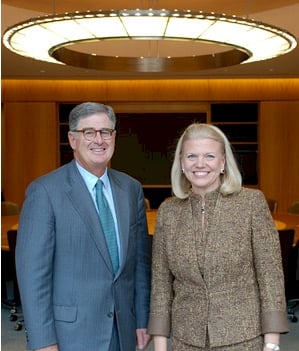 IBM chairman Sam Palmisano and soon-to-be
president and CEO Ginni Rometty under the mothership
Palmisano, who turned 60 this year, ran IBM's PC, services, and server groups earlier in his career. He was named president and chief operating officer in July 2000, when Lou Gerstner – the outsider who saved Big Blue from itself – was getting close to the 60-year traditional retirement age. Gerstner gave up the CEO title to Palmisano in March 2002, and in January 2003 Palmisano took over the chairman role, as well, and Gerstner retired.
El Reg had been speculating back in June, when succession rumors at IBM were going around, that Palmisano might name a president or CEO and keep the chairman job until 2014 or 2015. But Palmisano's letter to IBMers announcing Rometty as the new prez and CEO sure doesn't make it sound like he plans on sticking around for another two or three years:
Dear IBMer,
I have exciting and important news to share with you.
The IBM Board of Directors has elected Ginni Rometty president and chief executive officer of IBM, and a member of the board, effective January 1, 2012.
Starting with the new year, Ginni is our leader. At the Board's request, as well as Ginni's, I will remain as chairman. My job will be to help her in whatever ways I can, wherever and whenever she seeks my time and counsel.
The time is right for this transition, given the success of our transformation over the past decade, the soundness of our strategy and the strong performance of our business. And Ginni is ready. Together with the board, we have worked closely to ensure a seamless leadership transition.
I don't need to tell you that Ginni is an exceptional leader – a forward-thinker, passionate about our business, steeped in our values, and expert in the disciplines that are critical to our future success. Throughout her career – and especially as leader of Global Business Services and in her current role, Ginni has been a driving force behind the integration of the IBM company – from the integration of PricewaterhouseCoopers Consulting, to the integration of our solutions for clients, to the largest-scale integration of all, the global integration of IBM. She has spurred us to deepen our relationships with clients, bringing them unique expertise from IBM and greater knowledge of their businesses and industries. We see this not only in our near-term results, but also in the speed and agility with which we are executing our GMU strategy and other growth initiatives. These initiatives – from Smarter Planet and cloud computing to analytics, which Ginni identified as a growth area when she led GBS – are, of course, key to our 2015 roadmap.
Beyond that record of leadership, Ginni understands the character of our company at a deep and personal level. She knows it is unlike any other company in its capacity to change the world. She also knows that a company committed to moving to the future must never stop changing. She shares my belief that IBM is positioned for a second century even more remarkable than our first. I cannot think of a better leader to launch that journey than Ginni Rometty. I know you will give her all the support you have so generously provided me over many years.
As for me, ten years as CEO are plenty. I have always seen myself as the temporary steward of a great institution, and my goal has been to hand over to a future generation a better IBM than the one I entered. When I think about the privilege of spending my career here, with the remarkable women and men with whom it has been my honor to work – and to turn over the CEO role at the conclusion of our centennial – I feel like the luckiest guy in the world.
My charge to you, as fellow IBMers, is never to forget what this company is, what it can be, and what our world can be as a result. We have been at the heart of one of the most extraordinary eras of change in human history – and what lies ahead promises to be even more radical, and even more transformative. We have witnessed the emergence of a truly global economy and society. We have seen the flowering of a new age in science and technology. We have seen the dawn of an era in which intelligence is being infused into all the ways our planet works. And we have watched, and are helping, billions of people better their lot in life by entering the middle class and modernizing their nations.
People everywhere are living through this time, but very few are blessed with the chance to shape it. I have seen how important that is as I've traveled around the world this year, sharing perspectives on our centennial. I have learned from students in Beijing, venture capitalists in Silicon Valley, scientists in India and leaders of business, government and academia in many countries that there is intense curiosity about IBM, not only as a story of business success, but as an emblem of something deeper.
What I have seen is a widespread hunger to fill a vacuum that I think we all feel now – the need for leadership, the need for hope. Hope that we still have institutions and enterprises, leaders and employees, scientists and global citizens who keep moving to the future, who keep reinventing themselves, who keep driving progress – and who do so while preserving those fundamental values that must be preserved. I believe that IBM's history offers people everywhere a credible basis for this hope. It's an object lesson in the hard work of progress. And I believe IBM's future, under Ginni Rometty's leadership, will deliver richly on that promise.
As I said, after January 1, I will be available to help Ginni and the entire leadership team in any way I can. And long after I step aside as chairman, I'm sure you know that IBM and IBMers will always own my heart.

Rometty has been named a member of the IBM board, effective January 1. It is not yet clear who will be named to replace her as general manager of sales, marketing, and strategy.
"There is no greater privilege in business than to be asked to lead IBM, especially at this moment," Rometty said in a statement. "Sam had the courage to transform the company based on his belief that computing technology, our industry, even world economies would shift in historic ways. All of that has come to pass. Today, IBM's strategies and business model are correct. Our ability to execute and deliver consistent results for clients and shareholders is strong. This is due to Sam's leadership, his discipline, and his unshakable belief in the ability of IBM and IBMers to lead into the future. Sam taught us, above all, that we must never stop reinventing IBM."
There was no way Rometty was ever going to take the top job at HP. But it is interesting to speculate whether she was asked. ®