This article is more than 1 year old
OpenLogic floats multi-language custom cloud service
CloudSwing promiscuous with platforms
OpenLogic has launched a platform-as-a-service dubbed CloudSwing, which it is touting as the most flexible yet for the enterprise developer.
The service has pre-built stacks for Java, Ruby, PHP, and JavaScript, with platforms based on Rails, Tomcat, LAMP, node.js, and nginx. Users can create their own stacks using blends of open source, commercial, custom, and existing components. CloudSwing isn't picky as to suppliers either, working with Amazon EC2 or Rackspace (with 15 free hours of each on free trial accounts), and with support for Microsoft Azure coming soon.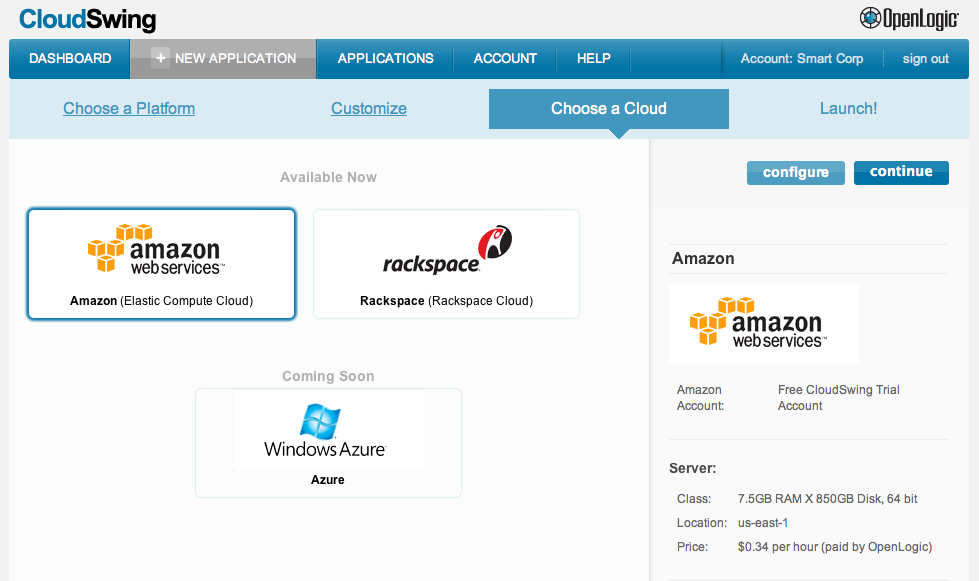 Azure will be arriving late to the CloudSwing party
CloudSwing also has integrated management features designed to keep track of costs in multiple online accounts and environments. For application monitoring, OpenLogic has embedded New Relic code to monitor performance in Ruby, Java, .NET, PHP, and Python.
OpenLogic has been running a small beta of CloudSwing, and has now opened it up for commercial service. A free trial account allows you to have up to three members and to deploy up to five concurrent applications. After that, plans begin at $30 for a single developer, $75 per month per team, or $700 for enterprises.
"OpenLogic CloudSwing lets us quickly and easily deploy open source stacks in the cloud," said Shabbir Merchant, CEO at Pragmatic Techsoft in a statement. "We are able to mix-and-match different components, giving our developers the flexibility to choose the best stack for each cloud project." ®