Dell bundles Ubuntu Linux on PCs in China
Hái méi for Ubuntu on PowerEdge servers
---
Commercial Linux distributor Canonical and PC and server maker Dell are tag teaming to peddle Linux on PCs in China.
According to a blog post, Dell and Canonical have announced a partnership to push Linux on consumer PCs in China through 220 retail stores operated by Dell in the country.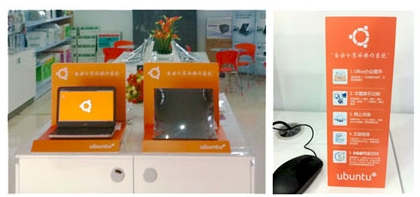 Dell's Chinese PC stores sporting Ubuntu
Dell was unable to provide a list of machines that were configured with Ubuntu, but a spokesperson tells El Reg that the company is targeting Ubuntu at consumers, not corporate or government customers in the burgeoning country, which has just become the largest PC market, knocking the United States from that throne in the second quarter. (The US is expected to regain its position in the second half of this year thanks to back-to-school and holiday buying, but eventually, just by the virtue of its population and rising economy, China will consume more PCs.)
Canonical says that Dell it is not yet (that's the hái méi part, if I trust Google Translate) preconfiguring Ubuntu Server on any PowerEdge machines in the country. But with many greenfield companies buying computers for the first time and not having a bias for or against Windows, you would think that Dell and Canonical would be hooking up to sell PC and server bundles aimed to companies. They may yet get around to it. Partner with some business software and it would probably be a hit.
This is not Dell's first time putting Linux on PCs. Four years ago, Dell was plunking Ubuntu on PCs sold in the United Kingdom, France, and Germany and SUSE Linux on PCs sold in China. The most perplexing thing is that Dell is not putting Red Flag Linux – the indigenous open source operating system – on its PCs and servers in China. But this move is no doubt good for Canonical. ®