If you've been dithering about whether you should pre-order Tesla Motors' Model S sedan, you've dithered too long.
"We've actually sold out of all of next year's production in advance," Tesla CEO Elon Musk told Bloomberg's Betty Liu in a video interview.
That would be "over 6,500" of the Model S, which will start at $49,900 when it goes on sale next year. That's about half the price of the company's Roadster, of which about 1,800 have been sold.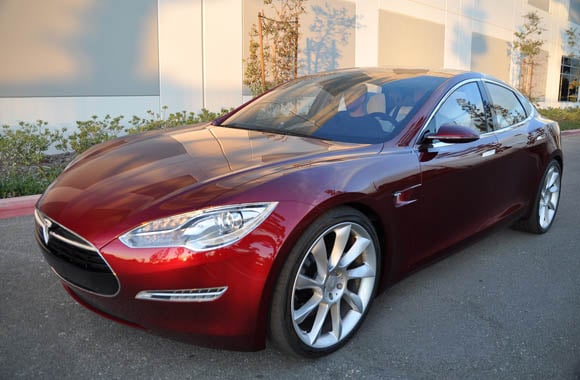 Tesla Motors Model S (click to enlarge)
Musk, however, said that the 1,800 sales volume is not low – his company always intended the Roadster to be a limited-run vehicle, he said.
"The Roadster is high-price, low-volume," he said. "The Model S is mid-price, mid-volume. And then our third generation – which will be maybe in four or five years, will be low-price, high-volume."
He also pointed out that only "600 or so Roadster buyers have bought Model S sedans," emphasizing that the vast majority of Model S buyers are new to the electric car market.
Musk also predicts that Model S sales will reach about 20,000 in 2013, and that Tesla will become profitable in that year.
"I actually think the entire industry is going to go fully electric," Musk said, "that all modes of transport will go fully electric – with the exception, ironically, of rockets."
That irony concerns Musk's other venture, SpaceX – and just this week, Musk told Popular Mechanics that he'll seek a sweeter deal with NASA for that space agency's plan have SpaceX build them a crew-carrying capsule. ®
Similar topics