We like zombies… because we are zombies
Social scientist sees humanity in their glazed, undead eyes
---
We make zombies in our own image, says Durham University social scientist Dr Nick Pearce, and he reckons that the braindead machine-gun fodder zombies of today ain't a good sign.
Dr Pearce will present his paper Can Zombies help us understand today's society? to "The Festival of Social Science" on 2 November. He thinks we need to reassess the undead hordes... for our own self-esteem as much as anything else.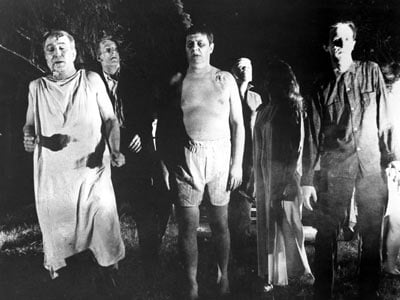 Zombies used to have a hope of beating the voodoo master
"Zombies are very now," Dr Pearce said, "but what's really interesting and potentially worrying is how far today's zombies – whether on TV, films or computer games – have departed from the original concept."
Zombies used to have a fighting chance back when they first staggered onto our screens in 1932 film White Zombie, he argues. Yes, they were the demoralised, undead slaves of voodoo priests, but they were slaves who had a hope of breaking free, as they do in that film and several others from the era.
But things got bad for zombies in the '60s, says the worried analyst of the undead.
"From the late 1960s, the nature of zombies changed and they were portrayed as hordes of brain-consuming monsters with no voodoo context and no controlling master," Pearce says, outlining the dilemma of today's brain-dead.
He says that now the zombies have no controller, they have no hope of ever being free. JUST LIKE US.
Zombies may well be popular today because they speak to a similar feeling of powerlessness shared by many members of our society.
If we ever want to reclaim our brains, we should have a think and a chat about zombie films – and then fight to reclaim our autonomy, says the doc.
The key question is why, like today's portrayal of zombies, are we unwilling to take a stand against the powers-that-be and overwhelmed by a lack of political interest? It seems the time is right to reclaim the original zombie concept of a controlling sorcerer but one that can successfully be resisted. Today's zombie phenomenon is a really good opportunity to get people thinking about who may be wishing to control our brains and what resources we have to resist.

In the past, zombies wandered around consuming brains, but today's zombies are encouraged to wander around consuming the latest, heavily advertised, branded goods.
Steve Jobs was the voodoo commander. We knew it all along. ®
Dr Nick Pearce will present Can Zombies help us understand today's society? at the cheerily named Festival of Social Science